Contemprary Tanka Poet Mariko Kitakubo. Tanka Society of America.
My Tanka publicized in Tanka Society of America.
I am very honored that two pieces of my English tanka were selected among many entries and posted in TSA Member's Anthology 2017.
Especially, I am deeply grateful to Ms. Margaret Dornaus and Mr. David Terelinck, the two selectors, because they understood and appreciated my intent and the theme of these two pieces. These pieces are not limeted to my personal emotion. I tried to focus on the world's peace while taking the form of tanka - a style of short poems.
more than
70 years ago--
the blood
of my parents
of my grandparents
dark fog
is crawling near
my ankles
Hiroshima, Nagasaki,
Fukushima and . . .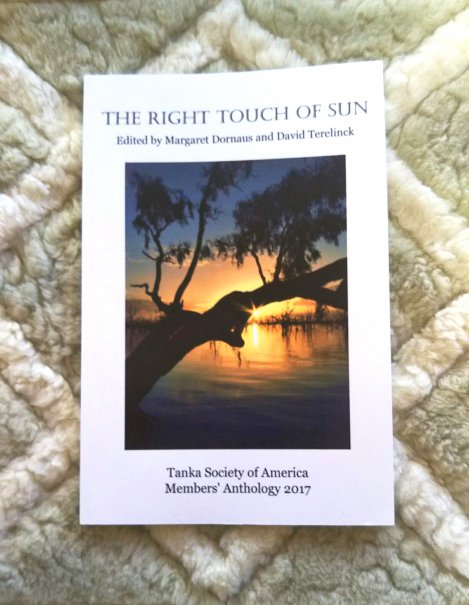 TSA に掲載されたその他の作品は、こちらよりご覧ください。
Tanka Society of America 掲載作品
Mariko Kitakubo wrote: "We had such sweet memories. She invited me to Gualala, and I visited to read my tanka at her Jazz Festival Reading event in April, 2009. She was invited to the Japan PEN club conference in September, 2010 and I brought her to Hakone."
misty lake Ashi
like a dream --
our tea cups
still there?
foot of Mt. Fuji
after Hakone
you wept for joy ...
I miss you so
at the same hotel
in order your favorite tea
Above is the memorial statement for Ms. Jane Reichhold
and my tanka posted in TSA.
Please
don't bring your children
offshore at Fukusima --
in the Summer reflections
so many dead eyes
Tanka Cafe, TSA Ribbons Spring/Summer 2016 Vol.12 No.9
Ms. Claire Everett's Tanka Journal, "Skylark," posted the responsive tanka of Ms. Kathabela Wilson, the secretary of TSA, and myself.
Ms. Everett, thank you very much.
Threrhold
(Mariko Kitakubo,Japan&Kathabela Wilson,USA)
Finn Air
we cross
the dateline(M)
a leaf through the door
lost again(K)
boomerang
the autumn sky
between my fingers(M)
we pull from both sides
but don't break
the wish bone(K)
when the swing
switches direction(M)
birdsong
we meet
at the clock tower(K)
Selected tanka
Hiroshima
a linden tree shelters
dead children...
cicada songs
surround me
Tanka Cafe
it was
my son's favorite...
finding
the last pistachio,
the old parfait glass
Selected tanka
floating lanterns
on the Motoyasu river
in Hiroshima ...
foster Mother
of so many bodies
Tanka Cafe. Theme ; Novels
blue sky
or mushroom clouds,
the last view
of our future
Saint-Exupery
Selected tanka
long sacred sleep
in the wooden drawer ...
does he waken
when I wind it
great -grandpa's watch
Rerponsive Tanka
Hiking at Coyote Wall
Mariko Kitakubo & Margaret Chula
wind, sunshine
a meadowlark's song
in the endless sky
I become invisible
at the edge of heaven
(Mariko)
growing profusely
along the rocky trail
clumps of poison oak
the Japanese poet wears
rubber boots and latex gloves
(Margaret )
when I saw
Mt. Hood from the hillside
remembering Fukushima
can they survive radiation
yellow wildflowers?
(Mariko)
here and there
cricket sounds
from the tall grasses
laughter of women
as they pass around chocolate
(Margaret )
Tanka Sequences "The Great Door"
please
don't set out for
your last trip...
it's snowing
like approaching shadow
opening
the great door
of astronomy --
I close my eyes
to hear your voice
cardiogram
the waves
in my heart
keep working
ignoring the accident
at the market
among the purple grapes
a few
young green ones ...
thinking about my son
Tanka-Cafe; Theme "The Shadow of things"
shadow
on the leaf mold--
ancestral
gene awake
in my silhouette
2 pieces of my tanka are posted on TSA Ribbons Fall 2014 Vol 10, Number 3.
Tanka Cafe ; Theme "Birds and Birding"
emptiness
of the pigeon nest--
weak rain
makes me calm
in spite of radiation
Selected Tanka
layers
of ancient stones
so cool
on my bare feet--
after we all cease to be...
The Theme; Color
whiteness
of the lilies...
they don't need
to express their love
just stand as they are
Tanka Café; theme Heirlooms and Relics
please keep
my letter
it will be
my relic after
my disappearance
Selected tanka
I'd like
to be the mist…
I'll disappear
after touching
your chest
Since my work was selected as the member's choice top in the previous volume, I selected three tanka, and wrote brief comments on them. It was a very honorable opportunity for me, and I learned a lot from it.
-----
Member's Choice Tanka
By Mariko Kitakubo
The Theme, "The End," is very deep, and it was difficult to choose my favorite three because there were so many beautiful works. My first choice is Kathabela Wilson's poem:
end of the beginning
by our door
a mirror
as the child leaves
a new mother is born
The first line, with its nuanced philosophy, attracted me. Yes, when some kind of story in our life starts, one of our old stories ends. Whether it's graduation, love, marriage, birth, or one of our many other smaller but beautiful life events, we can feel not only happiness but also sadness. The second and third lines give us two concrete images. "Mirror" is symbolic of our life; the reflections show, frame by frame, our story. The fourth line invites more images from our memories. All mothers and fathers have to experience their children leaving. In the poem's last line there is a sudden switch and surprise! "Mother" is a perfect metaphor: a new chapter opens in a life.
Keitha Keys takes a positive stance toward "The End":
at eighty
I've got no time
to lose
a second chance at love
I dive into the deep end
Though she write "at eighty" in the first line, the first four lines together affirm a youthfulness. She expresses her love actively, and I feel her perspective. In particular, the last line works effectively. She "dives into the deep end" – not death but fulfillment. She will be reborn anew at eighty, to start her second love. how wonderful this life is! I also want to be cheerful like her, and want to continue to write tanka to my ending.
Johnnie Johnson Hafernic's tanka brings us to the indelible scene of our childhood.
childhood
wisteria covering
the trellis
the new owners
chop it down
The "childhood wisteria" vine reminds us of some kind of bond or relationship from our early days, and "the trellis" in the third line is a metaphor for the closed and guarded environment of those days. The last two lines represent "the end." We can feel the long relationship the writer had with the vines. The strong and direct words of the last lines are very emphatic, and therefore effective in their sense of "the end."
The Theme; The End
walking
my favorite trail
with a cat...
I can't accept
the end of his love
Selected Tanka
I like
the waiting time--
my favorite tea,
a letter from someone,
and your sweet old voice
Selected Tanka
scent
of the savannah forgotten
I stand alone
in the gritty storm
of a 2.5 pollution wind
Tanka Café Theme; Colors
whiteness
of the lilies...
they don't need
to express their love
just stand as they are
Tanka Cafe-theme; the Afterlife
I'd like to
believe in eternity--
one noon
beside the acacia tree
an elephant with baby
Selected Tanka
cobalt blue
was my favorite
color
until I could see it
in atomic waste
Respoinsive Tanka with Ms. Giselle Maya.
Title: "Spring and Streams"
water sound
in August drought
trickling down
to the wide roots
of the poplar G.M.
only one
bud of hydrangea
under
the pale rainbow--
the urge to touch a small hope M.K.
blown together
by an autumn rainstorm
we meet again
at last able to speak
of what is in our hearts G.M.
harvest moon
in a puddle after the storm
my late friend
will be able to find this
from a cloudless sky M.K.
beads of dew
one vermillion fruit
lingers to guard
the persimmon tree
in its circle of fallen leaves G.M.
steaming
sushi rice decorated
by autumn leaves
grandma is still smiling
in my Japanese kitchen M.K.
painted
with flying birds
the gilded shrine
is the dwelling of those
whose genes we carry G.M.
breath
of the redwood trees--
thank you
for the peaceful sound
of this misty morning M.K.
glimpsed
upon moonlit water
a skiff
of barley straw
sailing to a distant land G.M.
nostalgia
for the incense stick
it was mom's favorite
I pray fir her
by a bamboo water pipe M.K.
108 fires
desire dispersed
near a spring
dedicated to the spirits
of animals I have known G.M.
a tiny drop
of the ancient ocean
our story has begun...
can you hear the lullaby
waves are still playing now M.K.
*G.M. represents Ms. Giselle Maya, M.K.,Mariko Kitakubo.
Tanka Cafe--theme ;Historical Events
fine snow
of New Year's Day,
small footprints
lead to grandma's gate
before the shrine
Selected Tanka
sound
of falling snow
scent
of firewood and baguette--
can I change my lonely life
Tanka Cafe --Theme; Autumn Locales
who is
counting fireflies
by the Nile?
after the dream
of civilization
Selected Tanka
divining
the last days
of mankind
in noon-day shadows--
the Milky Way still shines
Selected Tanka
a year later
little by little
he starts
to talk about the tsunami,
sunset to the debris
Member's choice tanka
winter
high tide--
I felt
the desire in my heart
to be your lady again
Tanka Cafe; Theme"Changing Your Mind"
Winter
high tide--
I felt
the desire in my heart
to be your lady again
Selected Tanka
weeping bitterly
at the cemetery--
a cat basks
in the winter sun,
my only comfort
Tanka Cafe -- Theme; Illusion
are drips
of happiness
joined together
by silver fingers
behind the galaxy?
Selected Tanka
the warmth
of my father drifted away
never to return
like smoke
from an incense stick
the door
is still closed--
I, a deserted child
remain
in the darkness