Contemprary Tanka Poet Mariko Kitakubo. Tanka Society of America.
My Tanka publicized in Tanka Society of America.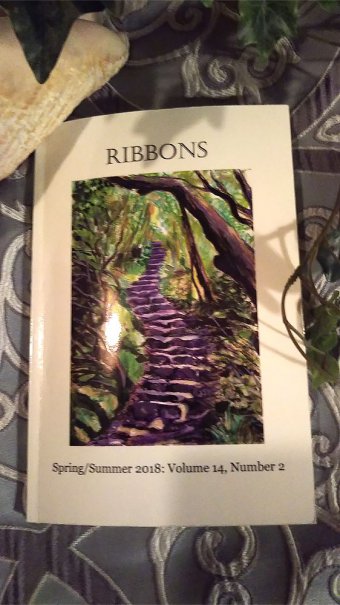 Tanka Cafe - the theme: Relantionships
like my son
like my grandpa
and like me,
grandchild likes
drawing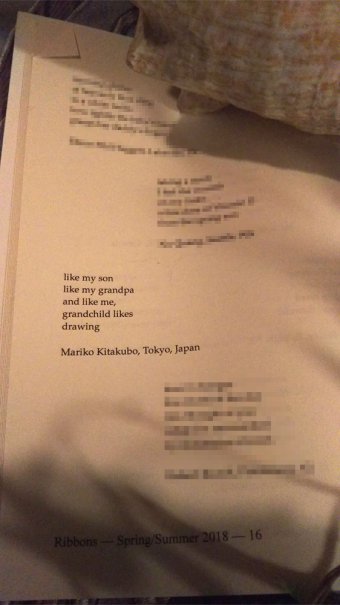 Selected Tanka
the deep blue
of an Alaskan sky
then the voice of an aurora
I want to dive
into the universe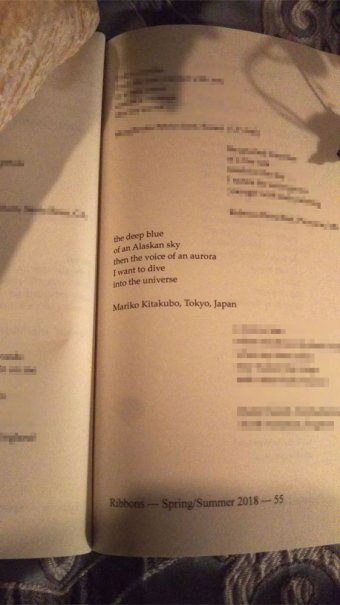 I am very honored that two pieces of my English tanka were selected among many entries and posted in TSA Member's Anthology 2017.
Especially, I am deeply grateful to Ms. Margaret Dornaus and Mr. David Terelinck, the two selectors, because they understood and appreciated my intent and the theme of these two pieces. These pieces are not limeted to my personal emotion. I tried to focus on the world's peace while taking the form of tanka - a style of short poems.
more than
70 years ago--
the blood
of my parents
of my grandparents
dark fog
is crawling near
my ankles
Hiroshima, Nagasaki,
Fukushima and . . .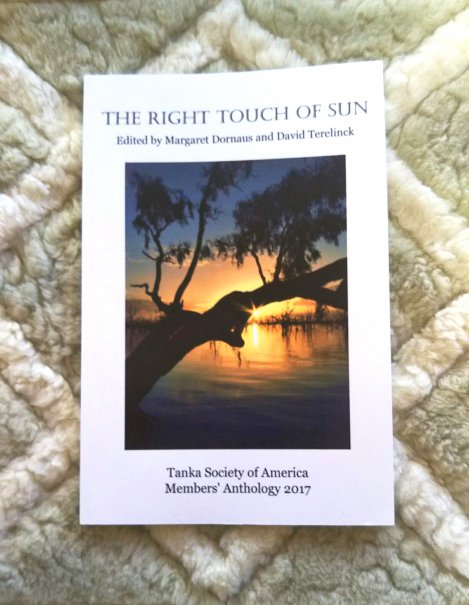 TSA に掲載されたその他の作品は、こちらよりご覧ください。
Tanka Society of America 掲載作品
Mariko Kitakubo wrote: "We had such sweet memories. She invited me to Gualala, and I visited to read my tanka at her Jazz Festival Reading event in April, 2009. She was invited to the Japan PEN club conference in September, 2010 and I brought her to Hakone."
misty lake Ashi
like a dream --
our tea cups
still there?
foot of Mt. Fuji
after Hakone
you wept for joy ...
I miss you so
at the same hotel
in order your favorite tea
Above is the memorial statement for Ms. Jane Reichhold
and my tanka posted in TSA.
Please
don't bring your children
offshore at Fukusima --
in the Summer reflections
so many dead eyes
Tanka Cafe, TSA Ribbons Spring/Summer 2016 Vol.12 No.9
Ms. Claire Everett's Tanka Journal, "Skylark," posted the responsive tanka of Ms. Kathabela Wilson, the secretary of TSA, and myself.
Ms. Everett, thank you very much.
Threrhold
(Mariko Kitakubo,Japan&Kathabela Wilson,USA)
Finn Air
we cross
the dateline(M)
a leaf through the door
lost again(K)
boomerang
the autumn sky
between my fingers(M)
we pull from both sides
but don't break
the wish bone(K)
when the swing
switches direction(M)
birdsong
we meet
at the clock tower(K)
Selected tanka
Hiroshima
a linden tree shelters
dead children...
cicada songs
surround me
Tanka Cafe
it was
my son's favorite...
finding
the last pistachio,
the old parfait glass
Selected tanka
floating lanterns
on the Motoyasu river
in Hiroshima ...
foster Mother
of so many bodies
Tanka Cafe. Theme ; Novels
blue sky
or mushroom clouds,
the last view
of our future
Saint-Exupery
Selected tanka
long sacred sleep
in the wooden drawer ...
does he waken
when I wind it
great -grandpa's watch
Rerponsive Tanka
Hiking at Coyote Wall
Mariko Kitakubo & Margaret Chula
wind, sunshine
a meadowlark's song
in the endless sky
I become invisible
at the edge of heaven
(Mariko)
growing profusely
along the rocky trail
clumps of poison oak
the Japanese poet wears
rubber boots and latex gloves
(Margaret )
when I saw
Mt. Hood from the hillside
remembering Fukushima
can they survive radiation
yellow wildflowers?
(Mariko)
here and there
cricket sounds
from the tall grasses
laughter of women
as they pass around chocolate
(Margaret )
Tanka Sequences "The Great Door"
please
don't set out for
your last trip...
it's snowing
like approaching shadow
opening
the great door
of astronomy --
I close my eyes
to hear your voice
cardiogram
the waves
in my heart
keep working
ignoring the accident
at the market
among the purple grapes
a few
young green ones ...
thinking about my son
Tanka-Cafe; Theme "The Shadow of things"
shadow
on the leaf mold--
ancestral
gene awake
in my silhouette
2 pieces of my tanka are posted on TSA Ribbons Fall 2014 Vol 10, Number 3.
Tanka Cafe ; Theme "Birds and Birding"
emptiness
of the pigeon nest--
weak rain
makes me calm
in spite of radiation
Selected Tanka
layers
of ancient stones
so cool
on my bare feet--
after we all cease to be...