Contemprary Tanka Poet Mariko Kitakubo. Media coverage.
My writing is posted in the 2017 January issue of The Japan Writers' Association News.
Thank you very much.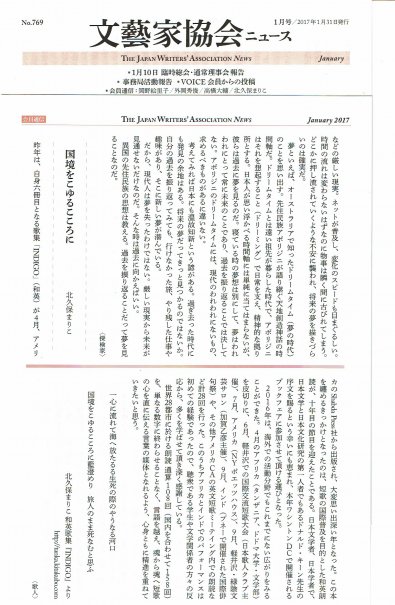 Monday, March 13, 2017
11 pieces of my tanka from INDIGO are included in anthology of NUCLEAR IMPACT.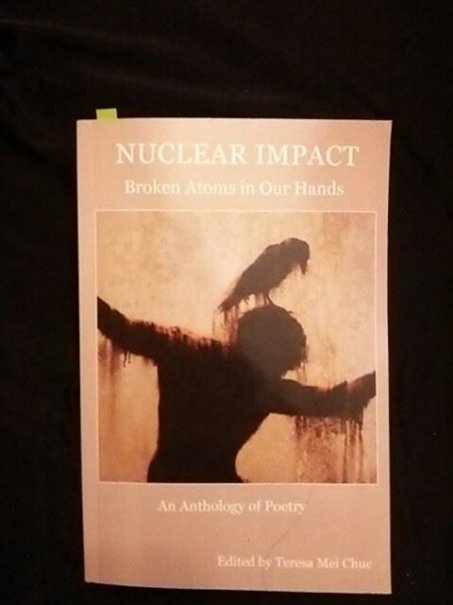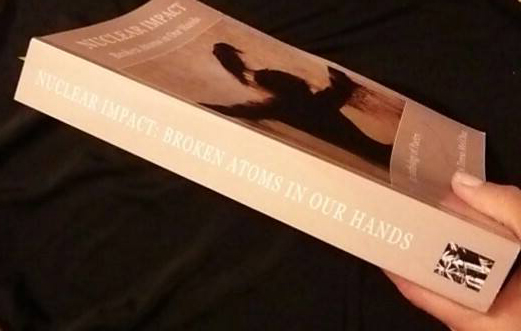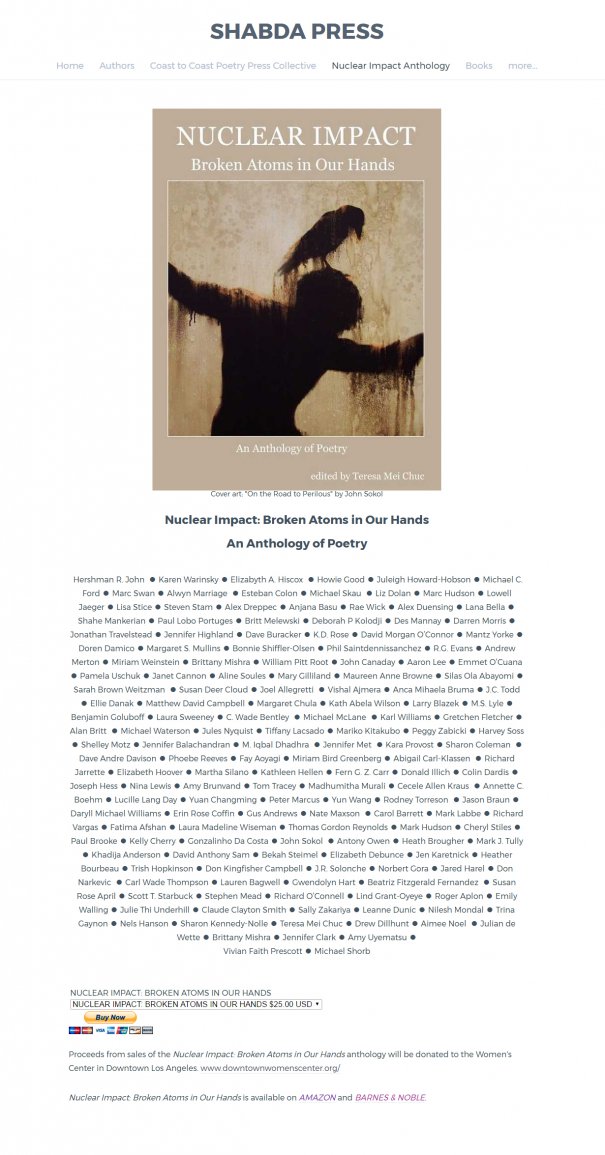 Wednesday, February 22, 2017
Ms. M. Trochimczyk posted my tanka sequence in her blog, "Poetry Laurels."
Thank you very much, Ms. Trochimczyk!

Click here to move to Poetry Laurels.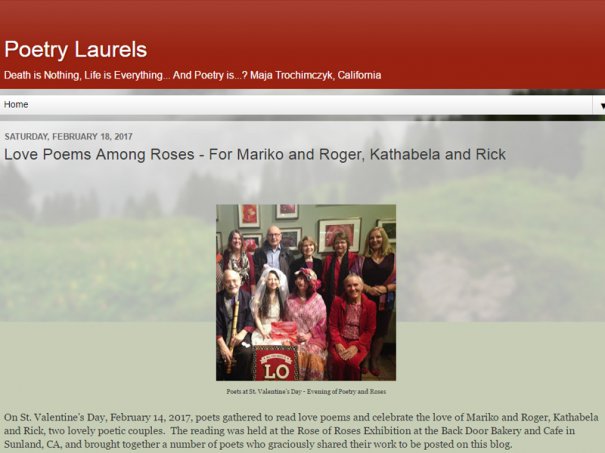 Tuesday, February 21, 2017
"SILK & SPICE Pirene's Fountain Volume 9 Issue 17", an American journal of poetry, posted some of my tanka. These are the sequence about Vietnam, which are included in my latest anthology "INDIGO."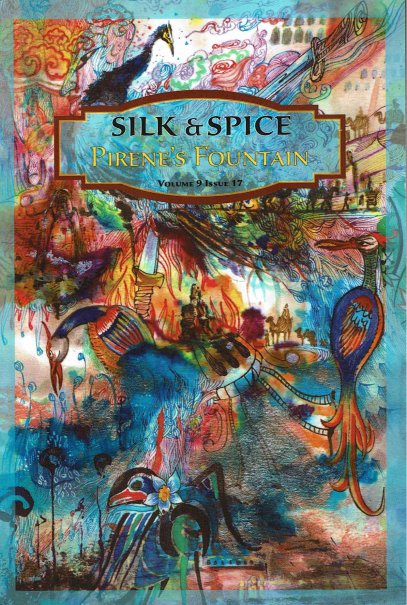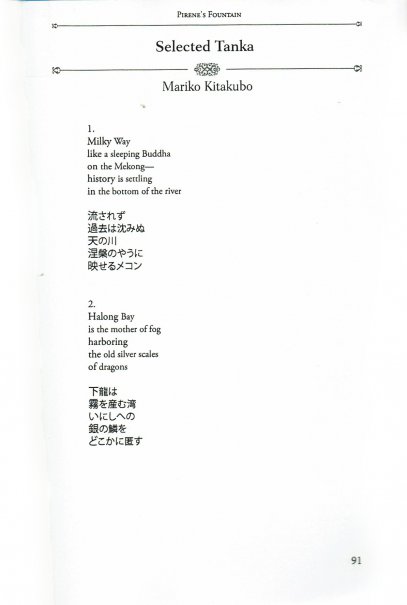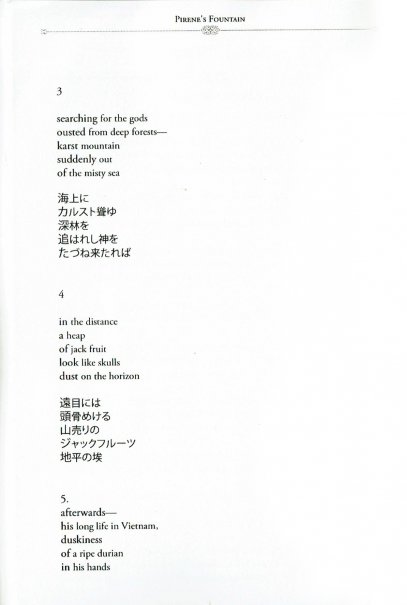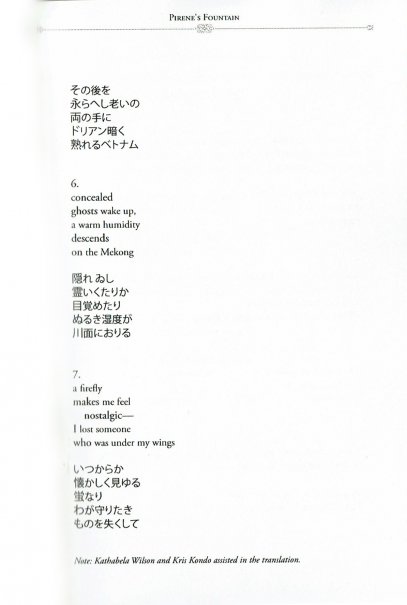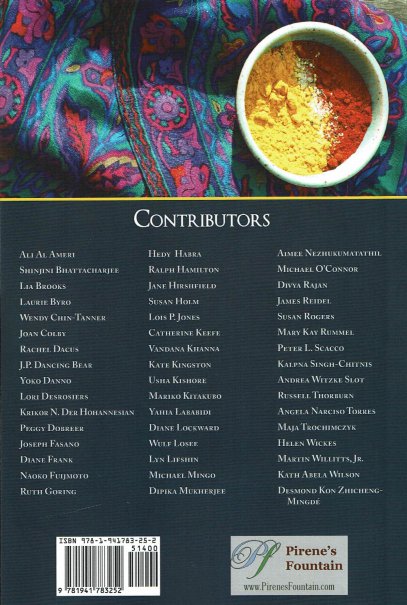 Wednesday, January 25, 2017
CIRRUS, a French tanka jouranl, posted some of my tanka from INDIGO together with French translation.
It is amazing, and I am so grateful.
I would be happy if I can be of some help for the French-speaking people to get familiar with tanka.
Click the images below to read "Cirrus tankas de nos jours No. 6 novembre 2016."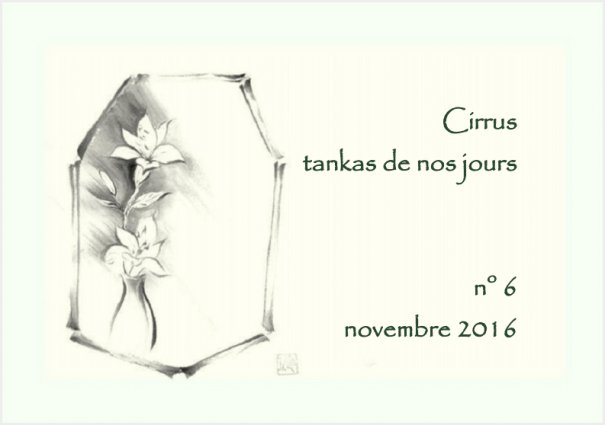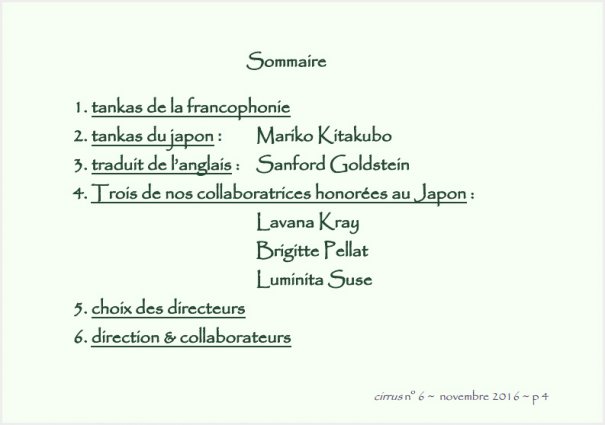 Tuesday, October 25, 2016
Colorado Blvd. Instagram posted my tanka reading video!
Click the picture or URL below to move to Colorado Blvd. Instagram.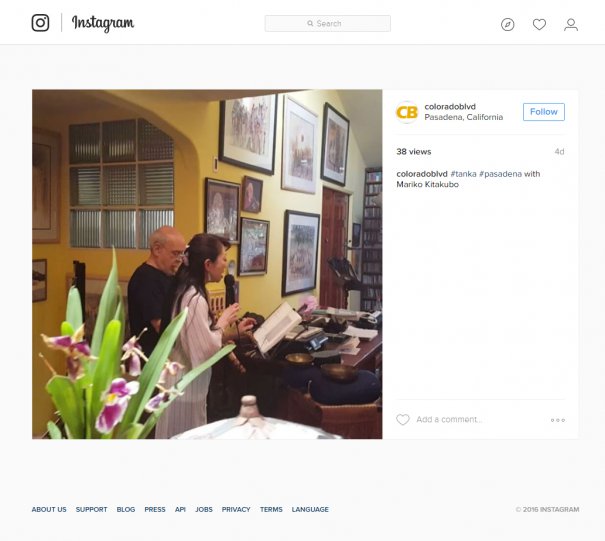 https://www.instagram.com/p/BIv9q2chNB8/
Wednesday, August 10, 2016
INDIGO will be lined up in the showcase of POET HOUSE in NY as a poetry book 2016.
It is my first book published in the U.S., and I have never imagined this wonderful honor to date.
I really appreciate it. Thank you very much.
Click the url below to move to the POET HOUSE website.
http://www.poetshouse.org/library/get-included

Monday, June 20, 2016
I am very honored to be posted in the facebook page of Tanka Society of America.
I would like to extend my sincere gratitude toward Ms. Marilyn Hazelton, the president of TSA.
The post in Tanka Society of America's FB page
Tanka has the power to heal our broken hearts. That can help us from the hopeless terrible situation. I noticed that beside my Mother's bed in the ICU hospita...l. She was sleeping like a beautiful baby or quiet Christmas Rose...
I kept writing tanka everyday, every moment to keep myself during her last 17 days.
cherry avenue
my late mother's favorite...
is there
another world?
petal drift
Mariko Kitakubo
Tuesday, May 3, 2016
My English tanka is published in the 85th issue of Kyoto Journal.
Mr. Ken Rodgers,
Thank you very much for using my work this year again!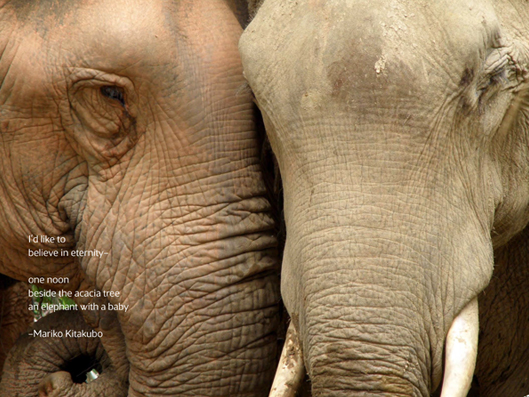 Monday, April 4, 2016
My tanka sequence is posted in Kyoto Journal #83 Food Issue.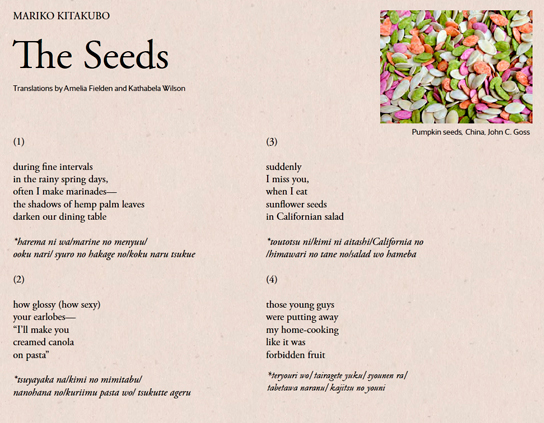 Wednesday, August 19, 2015
As of tomorrow, May 21st (U.S. time), you will be able to read and hear my tanka sequence as well as the reading performance audio at rattle.com. Please access the webpage from the URL below!
http://www.rattle.com/poetry/after-fukushima-by-mariko-kitakubo
My English tanka sequence, "After Fukushima", which was published in Rattle #47 in March 2015, together with my other sequence (8 pieces) will be published online in Rattle website on May 21.
You will be able to enjoy my bilingual tanka reading performance audio accompanied by oldflute Shakuhachi by Rick Wilson and percussion instrument by myself.
Wednesday, May 20, 2015
April 25, 2015, Colorado Boulevard.net published my interview.
Click here to read the article in Colorado Boulevard.net.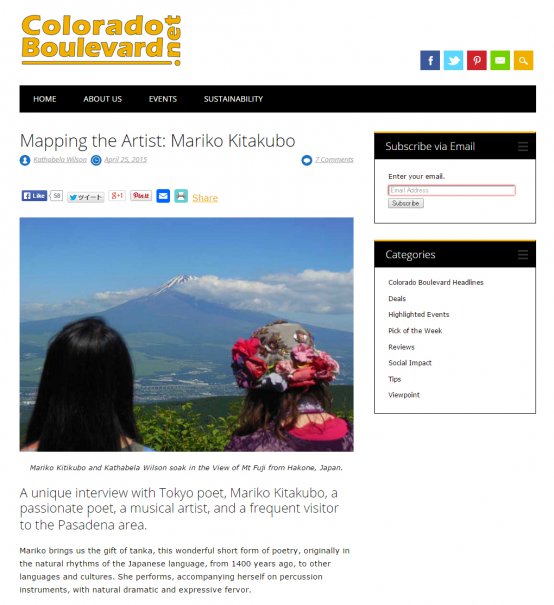 Saturday, April 25, 2015
My nice friend, Joan Zimmerman read my english tanka from Rattle #47 on the KUSP radio show.
Thank you so much, Joan!
cherry avenue
my late mother's favorite ...
is there
another world?
petal drift
Please check the program, "Rattle: Japanese poetry forms" on March 30th, 2015, on KUSP Radio Website!
http://blogs.kusp.org/poetryshow/
Tuesday, March 31, 2015
A series of my tanka, composed of 5 pieces, will be posted in the issue 47 of "Rattle", which is the most prestigious English poetry magazine.
I am very much honored, and am so grateful, with the fact that my work was discovered among more than 5,000 applicants.
I take this honor very seriously, and devote myself even more to compose tanka. Details will be announced in my website after the magazine is issued in March, 2015.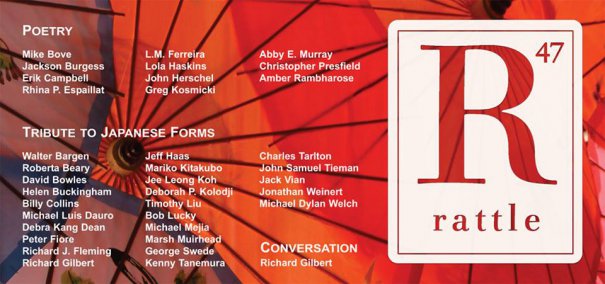 >> click here to move to "Rattle" forthcoming issue.
http://www.rattle.com/poetry/forthcoming/
>> click here to move to "Rattle" website.
http://www.rattle.com/
Sunday, February 8, 2015
"Jiyu-Jizai" published by Juken Kenkyu Sha included my tanka again.
A popular study guide for senior children at elementary school introduced my tanka in the section of poetry appreciation.
I am very honored to be selected again as one of the 23 poets whose works I studied in the textbooks when I was a student.
My tanka introduced:
I hear a voice telling me I should shed my husk, let myself be born anew
23 poets introduced:
Kakinomotono Hitomaro
Motoori Norinaga
Kitahara Hakushu
Empress Jito
Ryokan
Yosano Akiko
Yamanoueno Okura
Masaoka Shiki
Tawara Machi
Yamabeno Akahito
Ishikawa Takuboku
Kitakubo Mariko
Kino Tomonori
Ito Sachio
Terayama Shuji
Fujiwarano Toshiyuki
Shimaki Akahiko
Kato Jiro
Minamotono Sanetomo
Saito Mokichi
Homura Hiroshi
Oota Doukan
Wakayama Bokusui
Monday, October 27, 2014
It always seems to be a new challenge, to do tanka reading for the audience over the microphone. It was also a new experience for me to receive an intereview in English. I received many questions, some of which were tough to answer even in my mother tongue. Ms. Louis P. Jones and I built quite a rapport. She listened to 16 pieces of my tanka, and some times she had tears in her eyes. After the 30-minute recording, the producer and Ms. Louis offered me to be appear in a longer program next time. I was very happy, and hope this leads me into another new challenge.

Poets Cafe Fan Page : KPFK Radio-LA 90.7FM ROUDOKU&Interview
click here to listen to the interview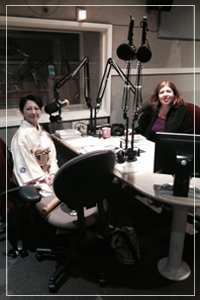 Monday, March 24, 2014
26, Nov. 2012 attended the P.E.N. Day social gathering hosted by the Japan P.E.N. club.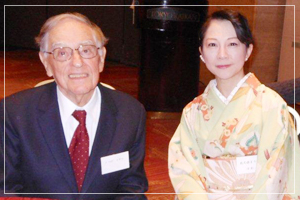 It was a distinct honor for me of meeting Professor Donald Keene at the gathering of the P.E.N. Day (hosted by the Japan P.E.N. Club).
I was very much moved with Prof. Keene's friendliness when he talked with each one of us, as well as his peace-loving, positive approach toward life.
Prof. Keene's wonderful personality attracted me like a magnet.
I strongly believe we devote ourselves even more than before into creation of Japanese literature, that Prof. Keene cherish and love.
Pressing Prof. Keene's words to my heart, I will keep making efforts for writing and reading Tanka.
Monday, November 26, 2012
"French Correspondence 36", a section in "KURENAI" Oct. 2012 (vol. 124)
Ms. Yasuko Kudaka, from whom I received lots of assistance when I visited France in Sept. 2012, contributed a wonderful article to "French Correspondence 36", a section in "KURENAI" Oct. 2012 (vol. 124),the tanka journal issued by Ms. Yoko Tamaki.It's really more honor than I deserve.
Below is the excerpted version of the article.
Sept. 21, Friday. Starting at 17:00, Japanese-French bilingual tanka reading performance session was held at the Centre Cultuel Italien in Quartier latin, Paris.Ms. Kitakubo chanted her own tanka in Japanese, and Mr. Antonio Francica, the Director of Centre Cultuel Italien, performed reading of the translated version of her works in French.
It was obvious that the translation was carefully done to refrect Ms. Kitakubo's message accurate. Audience expressed how much they were moved with their performance.
Since it was released as a Japanese-English bilingual event in the newsletter issued beforehand, many questions were asked to Ms. Kitakubo in English.
Some questions are,
"In which hierarchy in a society do those who read Tanka belong to?
Are they in a special circumstances?
Or, even common people write Tanka, too?"
"Do Emperor's family create Tanka?"
"When did Tanka started? How did it develop?"
"Are there any non-Japanese Haiku poets?
How about non-Japanese Tanka poets?"
There was a person who expressed how much he was moved.
"Ms. Kitakubo's Tanka is rooted from pure sincerity to wish for peace. I am deeply moved by her poems. I am filled with tranquility."
The more you hear or read her work, the deeper message you get from Ms. Kitakubo's tanka. For the purpose of interenationalization of Tanka, Ms. Kitakubo performed English-Japanese tanka reading many times in English-speaking countries.
I hope Tanka serves as a catalyst for the communication and interaction between Japanese-French, and with other language speakers. I sincerely wish it helps to create world's peace.
*I am so greatful to the assisntance of Mr. Metwally "Tsukasa" Gamal and Ms. Yasuko Kudaka for their amazing translation work into French.
Wednesday, October 10, 2012
My tanka will be used at the concert to be held at "Ohmi Gakudo" hall in Tokyo Opera City.
It is a great offer from Ms. Yumi Nakamura, a music composer. She has been telling me she wants to put melody to my tanka for some time.
Concert for Grownups
| | |
| --- | --- |
| Date & Time | August 24, Friday 15:00 |
| Place | "Ohmi Gakudo" hall, 3rd Floor Tokyo Opera City |
| Music | Yumi Nakamura (Music Composer) |
| Lyrics | Mariko Kitakubo (Tanka Poet) |
| Vocal | Hideyuki Niki (Baritone Singer) |
I am truly happy at the very thought that my tanka works accompanied by wonderful music fill "Ohmi Gakudo", a concert hall designed with the inspiration of chapel. I would like to extend my gratitude to Ms. Nakamura and Mr. Niki.
For the details, please refer to ACCEL web site.
Friday, August 24, 2012
Received a certificate from Tanka Society of America for The Tanka Cafe Member's Choice Tanka. This is a great honor for me!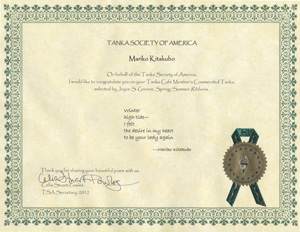 Saturday, July 7, 2012