Contemprary Tanka Poet Mariko Kitakubo. Article details.
Oct. 2, Nihon Keizai Shinbun newspaper
Japanese newspaper, Nihon Keizai Shinbun, posted my interview.
English translation of the article is available below of this page.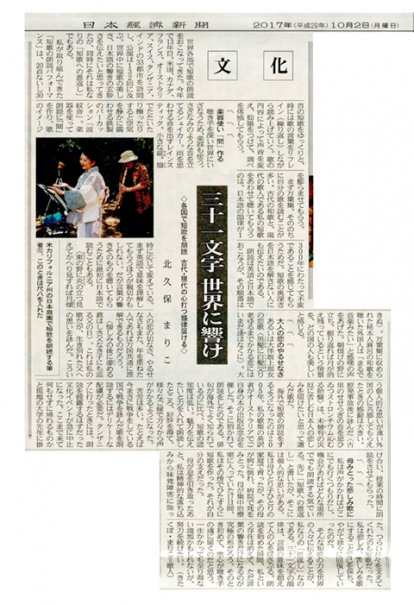 Nihon Keizai Shinbun newspapser, Oct. 2nd issue.
"Culture" section
ECHO IN THE WORLD 31 SYLLABLES
Tanka reading performance overseas to deliver the prosody of historical and contemporary poetry that touches the audiences' heart.
Mariko Kitakubo
I have been presenting Tanka reading performance in many places around the world. This year makes the thirteenth year for my activity. Visited 33 cities in the United States, Canada, France, Australia, Switzerland, Tanzania and India, I performed 132 times of Tanka reading to date. Although my main motivation is to deliver the beauty of Tanka as well as the profoundness of the sound which the Japanese language has, my activity also has an aspect of "returning the favor to Tanka."
In my performance, I read out twenty to thirty pieces of Tanka, slowly, and sometime refrain words in the poem. I change the vocalization according to the content of the poem, attaching intonation so that the audience can experience the beauty of the sound.
Use musical instruments to create "intervals"
I also use instruments to invite the listeners to a deeper world. A shaker makes sounds like ripples. A rain stick makes a sound reminiscent of rain. Small bells. And, iron-made percussion, "Hamon", which gently vibrates air when it is beaten or rubbed by drumsticks. These instruments are used to create some intervals so that the listeners are able to expand their imagination about the poem.
Most of the time, I perform reading poems from "Manyo-shu" at first, followed by my own Tanka pieces. I would like the audience to feel unchanging sound of the Japanese language even today 1,300 years after the Manyo period. This is the reason why I perform ancient Tanka poetry together with my own Tanka. I would like to deliver the deepness of Tanka to the people who do not understand Japanese.
I perform reading both in English and in Japanese. I change the order of the languages according to the situation. It may be more kind to offer English version first because they are able to understand the meaning of it. However, when I wish them to focus on the sound of the Japanese language, I read Japanese Tanka before its English version.
on the eastern fields
I can see the flames
of morning rise
turning around,
I see the moon sink in the west
(by Kakinomoto no Hitomaro)
When a non-Japanese audience heard this piece of poem written by Kakinomoto no Hitomaro contained in "Manyo-shu". She was so marveled and said, "It sounds as if a piece of music." Standing in the field of morning glow, you look back and find lingering moon - we feel this scene is beautiful regardless nationality.
Painfulness of adult's love
never until now
in this old life,
when white hairs twine
among the black,
have I fallen into longing like this
(by Sakanoue no Iratsume)
Painfulness and heartrending sadness of adults romance may be another example of feeling which can be understood commonly especially among the aged people.
after hating him
for so long, now imbued
with the longing
of a child with no father
on Father's Day
(by Mariko Kitakubo)
I wrote this piece with my emotion toward my father from who I parted in life. I am deeply impressed when I find non-Japanese person show an empathy toward this sort of my personal emotion.
sounds
of the stream
in my homeland-
Strontium is soaking
into the placenta
(by Mariko Kitakubo)
This is another piece of my Tanka which I selected to convey the sadness of Japanese suffering from unprecedented calamity.
I started Tanka reading performance overseas in 2005. I was invited to the publishing party in Australia and performed Tanka reading when the translator of my anthology published her own book. Compared with Haiku being well known abroad, the recognition of Tanka is low. I simply wanted to convey the charm of Tanka, therefore, I did the reading with full expression. The audience showed favorable reaction toward my performance, and I started receiving requests to do Tanka reading from many different people.
There are many hardships. For example, delicate consideration is required to perform reading Tanka with the theme of conflict in the countries currently in war. When I visited Tanzania, the cultural event, in which I was scheduled to perform some reading, was suddenly canceled. I thought I could not go home without doing anything after all the way to come to Tanzania, I negotiated with a professor in the university and got some opportunities for me to present Tanka reading in class.
Sorrowfulness for the deceased mother
I am willing to go anywhere to present reading performance whenever I have opportunities. In the beginning, I wrote "returning the favor to Tanka", and there is a special and personal emotion attached to it. I grew up in a mother-and-a-child family. She got ill, and passed away in the hospital. While she was in intensive care unit for seventeen days, I was by my mother's bedside, and devoted myself to write Tanka. Writing Tanka was a spiritual support for me at that time.
After she breathed her last, the huge sense of loss made me taste disorder. However, again, it was Tanka that supported me in my tough days. I put my sorrow and painfulness into my Tanka, which helped me a lot to hold myself. And gradually, I was recovered.
To pass on the power that Tanka has is my way to returning the favor to Tanka. Thirty-one syllables are not just the words with meaning. They touch and move the heartstrings of the listeners. At the moment I start reading, my existence disappear and only the sound of words remains - it may be the ultimate form of reading poetry. I believe it is the moment when the emotion in the poetry touches the heart of the listeners. I may not be able to reach such a stage in my lifetime, however, I would like to make efforts to come closer to it.
Photograph: Mariko Kitakubo performs Tanka reading in Storrier Stearns Japanese Garden, Pasadena, California. Shakuhachi, a Japanese bamboo flute, played by Mr. R. Wilson.