Contemprary Tanka Poet Mariko Kitakubo.
お知らせ

Oct., 10th, I was invited to the opening event for "the 30th Japanese Culture Month". It was a very honorable occasion for me.

With Mr. Masato Watanabe, Ambassador Extraordinary and Plenipotentiary, Embassy of Japan in Bulgaria.

I was given an opportunity to present Japanese-English bilingual tanka reading, and was very happy because they pleased my performance very much.


Friday, October 11, 2019

Oct. 8th, I performed Japanese-English tanka reading at a literature event held at Sofia City Library, Bulgaria.

I tried my best to deliver message from soul to soul, because both English nor Japanese are not the audience's mother tongue.

I was very happy when the people gathered there were moved to tears, and gave me wonderful comments.

Ms. Iliyana Stoyanova made opening remarks.


Tuesday, October 8, 2019
On October 8th, I will perform tanka readng in an event in Sofia, Bulgaria.
2019 is a very imortant "three aniversaries" year for the two countries. I am very honored and excited about for the invitation to participate in one of the events to celebrate aniversaries.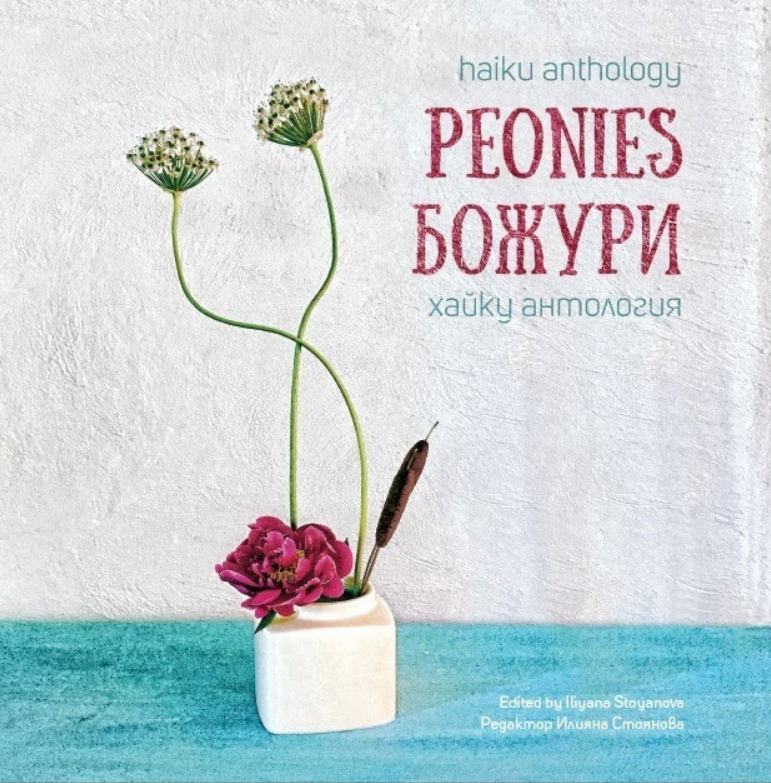 Please visit the event's Facebook Page!
Премиера на двуезичната хайку антология "Peonies / Божури"
Tuesday, October 1, 2019

On the last day of ANIMUSIC Organological Congress2019, I presented Japanese and English tanka reading.

The venue was a hotel & restaurant "Pousada Conventode Belmonte", a tasteful masonry building.

I was very happy because I was allowed to use this wonderful facility, where the lighting and sound rebibration are beautifully designed.

The artists from many countries such as Lithuania, Israel, Italy, France, Russia, Netherland, and the host country Portugal, gave me moving comments.

I would like to keep them in mind and continue my performance from now on.

A photographer of the municipal government came, and I felt very much obliged.

I extend my sincere gratitude toward those who listened my presentation with tears in their eyes, for many of them Japanese or English was not their mother tongue.

I will conitinue making efforts to deliver heart-to-heart message through my performance.
Monday, September 30, 2019

Bilingual (Japanese&English) tanka poetry reading performance by Mariko on Sep, 21, 2019 at Capela de Santiago, Belmonte Portugal.

I am greatly honored to present my performance to many audience gathered here.


Photos by Mr.Michael Lynn.
Tuesday, September 24, 2019
On Sept. 21st and 22nd, I will perform bilingual tanka reading and introduce tanka at ANIMUSIC art event in Belmonte, Portugal.
As for the details of the event, "ANIMUSIC Oranological Congress 2019", please refer to the official website.
ANIMUSIC Oranological Congress 2019 Event Program
https://congressorganimusic.wixsite.com/co2019oc/programa-program?fbclid=IwAR3XuOmaj3I1s5PsLwX9Fob20lC1uEf1v2kvdDdMco8DEJSQmUZJDVontmU
ANIMUSIC Official Website
https://sites.google.com/site/animusicpt/
ANIMUSIC Oranological Congress 2019
https://congressorganimusic.wixsite.com/co2019oc
Saturday, September 14, 2019
British Haiku Society posted in its website a report about International Haiku Conference 2019 held from May 31st to June 2nd.
It introduces my bilingual tanka reading performance at the end of the first day. Please visit their website!
Click here to visit The British Haiku Society International Haiku Conference 2019 web page.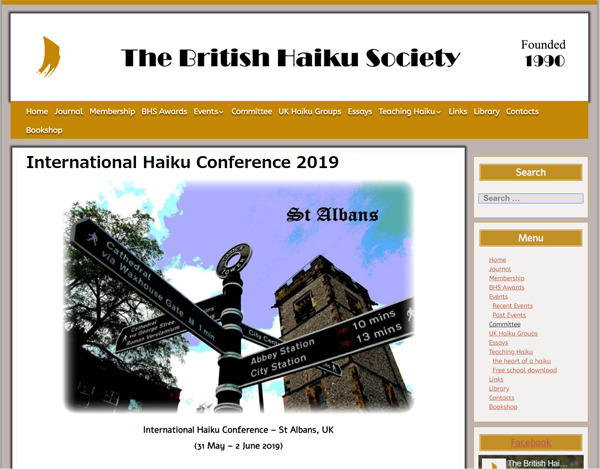 Tuesday, August 27, 2019
Colorado Boulevard.net posted my writing and English tanka, together with a photo of my cat, in its Poets Salon: Dreaming Cats.


Monday, July 22, 2019
| | |
| --- | --- |
| | On June 22, I performed tanka reading at Kanagawa Museum of Modern Literature. |
| | Thanks to the planning and coordination by Kanagawa division of Taishu Bungaku Kenkyu-kai, the Popular Literature Study Association, I performed "Fukushima", which is a seriese of tanka which I wrote after visiting the nuclear power plant in Fukusima in Fukusima prefecture Japan, as well as "Prayer for peace", which I often perform overseas. |
| | Mr. Genichi Yamamoto, the chairman of the Japan P.E.N. Club environment committee, presented the report and his impression about his visit to Fukushima nuclear power plant. He also talked about his perspective on Camus' "Pest" as a literature of disaster. |
| | I would like to thank everyone who made all the arrangements for this event including venue reservation, as well as to all the attendants who came to the event in spite of the rainy weather. |
| | |
| | |
Sunday, June 23, 2019
I will participate in a Reading & Talk event at Kanagawa Museum of Modern Literature on June 22.
I am going to intersperse tanka reading with some explanations so that even those who are not familiar with tanka can enjoy the event.
I would be more than happy if you could spare time for this event!
Date & time:
June 22nd, Satruday 15:00 to 17:00
Venue:
Kanagawa Museum of Modern Literature
Speakers:
Genichi Yamamoto, the chairman of the Japan P.E.N. Club environment committee
Mariko Kitakubo, Tanka poet & tanka reading performer
Title:
"From Camus to tanka as a literature of disaster"
Admission:
1,000 yen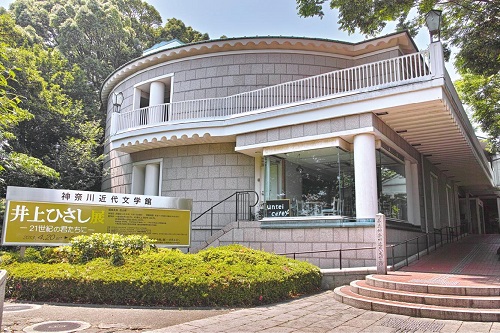 Friday, June 14, 2019