Contemprary Tanka Poet Mariko Kitakubo.
お知らせ

On June 30th, Ms. Deborah P Kolodji and I presented reading some pieces from our Tan-Ku Collection, "DISTANCE," at the HNA Haiku Northern America Conference in Cincinnati before our reading performance on July 2nd, 2023.

I am delighted to announce that this location marked the 55th city of my reading performance activity across the world.

We extend our sincere gratitude to the event organizer and all the participants who listened to our Tan-Ku reading.
Saturday, July 1, 2023
Eucalypt, an Australian Tanka Journal, published my latest English tanka in its Issue 34, 2023.
My sincere gratitude toward Ms. Julie Thorndyke, the editor.
Thank you very much.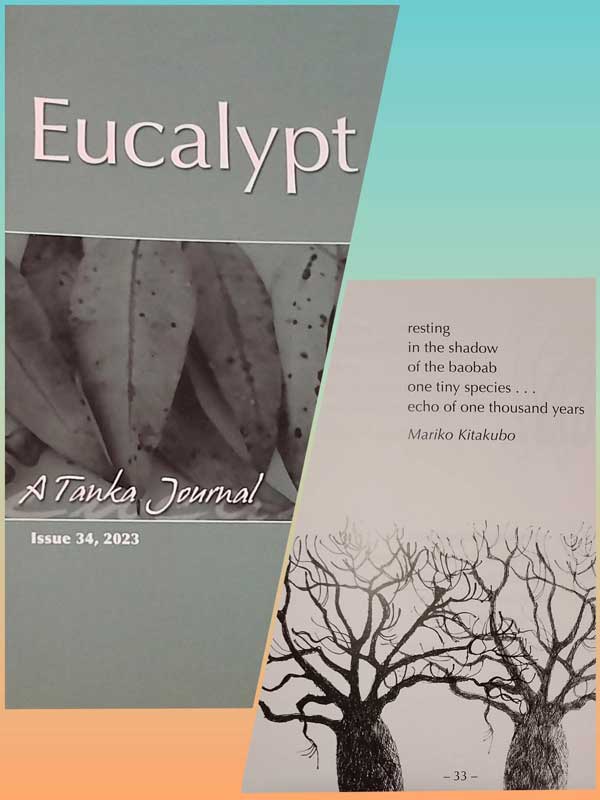 resting
in the shadow
of the baobab
one tiny species ...
echo of one thousand years
Thursday, June 15, 2023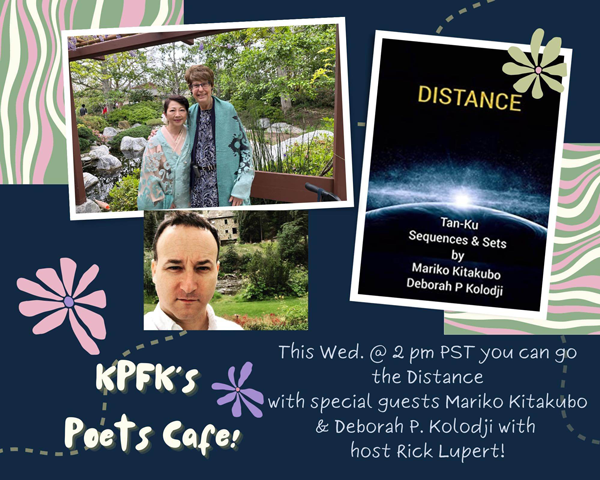 In April 2023, while I was in the US, Ms. Deborah P. Kolodji and I received a valuable offer from Ms. Marlena Bond and Ms. Lois P. Jones of KPFK FM to interview for their program "Poets Cafe."
It was about our first Tan-Ku book, "DISTANCE," released by Shabda Press in the same month. The program was designed in such a way so that those who are not familiar with English Haiku, Tanka, and Tan-Ku get an opportunity to understand these short poems.
Mr. Rick Lupert, a well-known organizer of Zoom Reading, "Cobalt Poets," was the host. We would like to express our sincere gratitude for the opportunity to introduce Tan-Ku to the public airwaves. Thank you very much.
The program was on air on May 24, from 2:00 p.m. PST (6:00 a.m. JST on May 25).
If you are interested, please visit SOUNDCLOUD.com Poets Cafe on KPFK.
Please note that our interview lasts about 28 minutes, and the next program starts immediately after.
(Note) In the question-and-answer session, I mistakenly referred to the origin of tanka as 14,000 years ago, but 1,400 years ago is correct.
Tuesday, May 30, 2023
English poetry journal "Mariposa" in its Spring/Summer 2023 issue #48 published a Tan-Ku set that Deborah and I weaved together.
I would like to express my sincere thanks to the editor Mr. David Grayson. Thank you very much.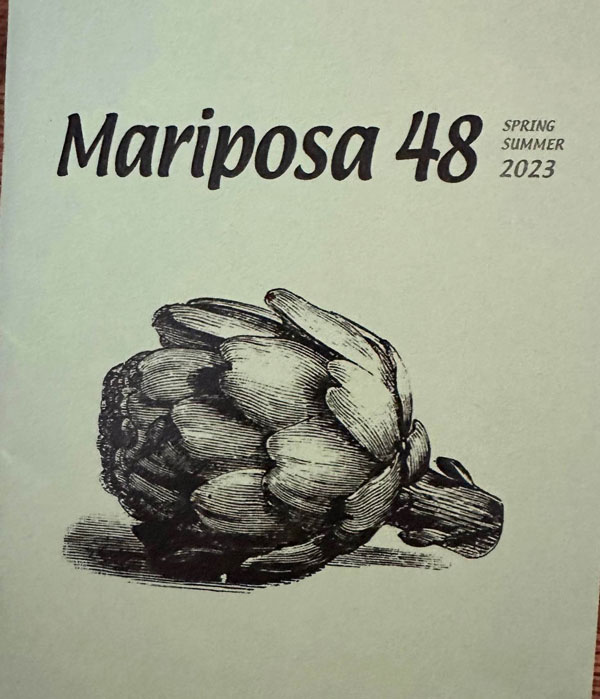 Across the Sea
feeling
the sea breeze...
I am hiding
in your shadow
on the California beach (M)
my face towards you
the tide comes in
goes out (D)
Mariko Kitakubo & Deborah P Kolodji
Wednesday, May 10, 2023
I donated a copy of DISTANCE, which Deborah and I co-authored, to the International Library Salon of Hiiragiya Ryokan, a long-established Japanese inn that has been in business since 1818.
It is the third book I have donated, following INDIGO and Rattle 47, which I donated three years ago.
It was a great pleasure to meet Ms. Nishimura, the proprietress, and hand over the book to her in person.
I sincerely appreciate to Ms. Nishimura for her willingness to accept the book and to Mr. Nakamura for acting as a bridge between the two.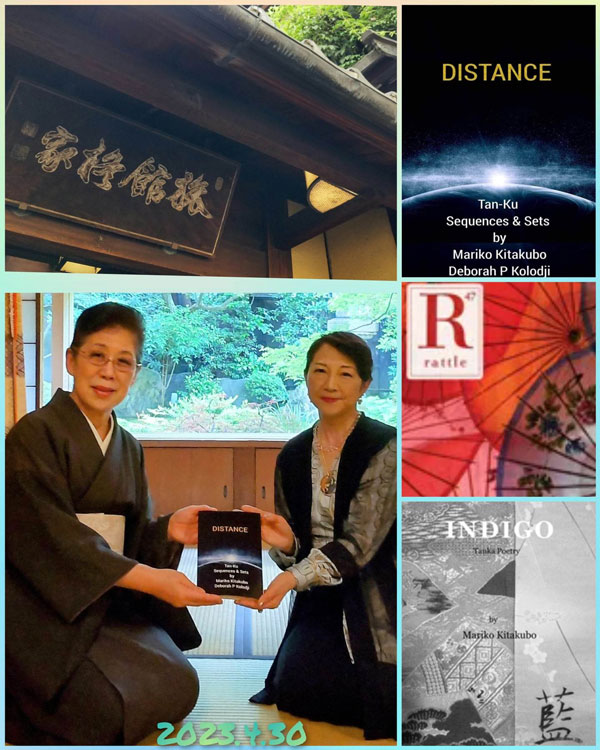 Ryokan Hiiragiya's website
https://www.hiiragiya.co.jp/
Monday, May 8, 2023
I am honored to receive Certificates of Recognition from the California State Senate and Assembly.
It is a great honor for me to be recognized for my small international activities and to have our co-authored book, DISTANCE, read by them. I humbly receive these recognitions and would like to keep moving forward in my activities.
Thank you very much from the bottom of my heart.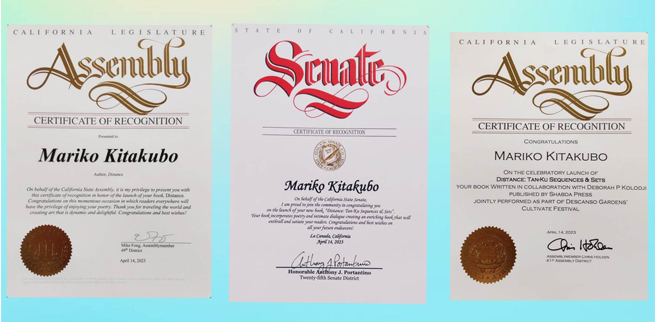 (Left)
CALIFORNIA LEGISLATURE Assenbly
CERTIFICATE OF RECOGNITION

Presented to: Mariko Kitakubo Author, Distance

On behalf of the California State Assembly, it is my privilege to present you with this cenificate of recognition in honor of the launch of your book, Distance. Congratulations on this momentous occasion in which readers everywhere will hm·e the privilege of enjoying your poetry. Thank you for traveling the world and creating art that is dynamic and delightful. Congratulations and best wishes!
Mike Fong, Assemblymember 49th District April 14, 2023
(Middle)
STATE OF CALIFORNIA Senate
CERTIFICATE OF RECOGNITION

Mariko Kitakubo

On behalf of the California State Senate, I am proud to join the community in congratulating you on the laundh of your new book "DISTANCE: Tan-Ku Sequences & Sets."
Your book incorporates poetry and intimate dialogue creating an enriching book that will enthrall and satiate your readers.
Congratulations and best wishes on all your future endeavors!
La Canada, California April 14, 2023
Honorable Anthony J. Portantino Twenty-fifth Senate District
(Right)
CALIFORNIA LEGISLATURE Assenbly
CERTIFICATE OF RECOGNITION

CONGRATULATIONS MARIKO KITAKUBO

ON THE CELEBRATORY LAUNCH OF DISTANCE: TAN-KU SEQUENCES & SETS YOUR BOOK WRITTEN IN COLLABORATION WITH DEBORAH P KOLODJI PUBLISHED BY SHABDA PRESS JOINTLY PERFORMED AS PART OF DESCANSO GARDENS' CULTIVATE FESTIVAL
APRIL 14, 2023 ASSENBLY MEMBER CHRIS HOLDEN 41ST ASSENBLY DISTRICT
Thursday, April 27, 2023
Colorado Boulevard in its Earth Month Issue posted Tan-Ku sets and a sequence I co-authored with Ms. Deborah P Kolodji.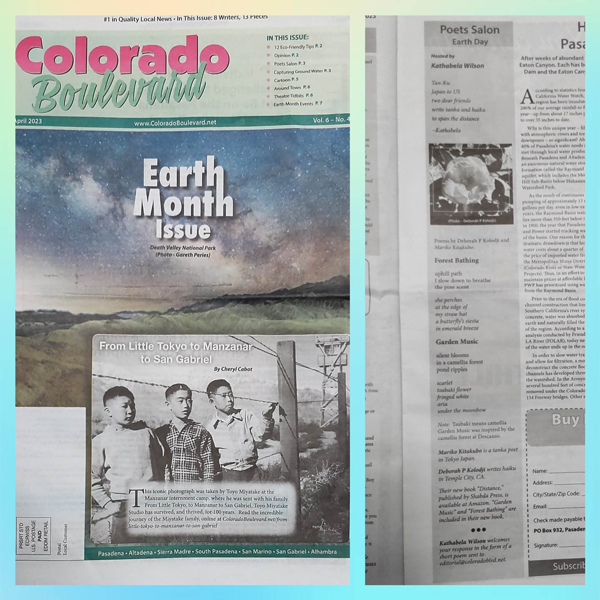 Forest Bathing
uphill path
I slow down to breathe
the pine scent (D)
she perches
at the edge of
my straw hat
a butterfly's siesta
in emerald breeze (M)
Garden Music
silent blooms
in a camellia forest
pond ripples (D)
scarlet
tsubaki flower
fringed white
aria
under the moonbow (M)
Following the Strands
glamour
of nocturnal
salt water
born from a moon
in Andromeda (M)
expanse
of the universe
a boy and his dog (D)
journey
of the double helix
has no ending. . .
ancient dragonfly shadows
by the stream (M)
tar pit
on Wilshire Boulevard
saber-toothed tiger (D)
iridescent tail
of a baby lizard
Goddess Nyx
gives him wings
sherbet moon (M)
the speed of sound
through water
whale song (D)
You may want to check Colorado Boulevard.net to view our Tan-Ku.
Sunday, April 23, 2023

On April 16, I presented a reading performance for the commemoration of "DISTANCE" publication at the Japanese Friendship Garden in Balboa Park, San Diego.

So many audiences gathered for this, including the San Diego poetry group, and I was so honored. Thank you very much.

This is a view of the Japanese garden arranged on the expansive grounds.
Monday, April 17, 2023

April 14, I presented reading sessions twice at Descanso Gardens in California, the U.S., in its event "Shiki, The Four Seasons in Japanese Art."
Each session was about half an hour long.

I was very grateful for the fine weather and the number of the audience at the event.

After the Descanso Garden event, I received awards from California State Legislature. It was a total surprise for me, and I could not find words to express how much honor I felt.

My sincere gratitude for the recognition. Thank you very much.

A part of the on-going event "Shiki, The Four Seasons in Japanese Art" at Descanso Gardens.
Saturday, April 15, 2023

On April 13th evening, Ms. Kathabela Wilson invited Ms. Deborah P Kolodji and me to her residence and we performed the first Tan-Ku reading.

It was very important and meaningful for me as the preparation for Descanso Gardens Shiki Museum event on the following day, and the Japanese Friendship Garden in Balboa Park, San Diego on April 16th.
Friday, April 14, 2023