Contemprary Tanka Poet Mariko Kitakubo. Reading Performance.
Tanka reading performance oveseas.

Mr. Edward Levinson, a haiku poet, and a photographer, invited me to participate in an open mic reading of "Drunk Poets Tokyo."

It is an event of a private poetry group hosted by Mr. Samm Bennett and Mr. Joy Waller.

Mr. Levinson and I belong to the Japan PEN club, where we got to know each other.

It was my first time taking part in this event, and it had been a while since my previous performance in Japan.

I had a great time with the participants as we were all inspired by each other's expressions. Thank you very much.
Saturday, July 22, 2023

On July 11, 2023, the excellent painter Ms. Susan Dobey, whom I have known for a long time, invited me to her art gallery and gave a tanka reading performance for those who rarely have a chance to listen to tanka poetry.

I was very happy to have the opportunity to perform Tan-Ku's reading from DISTANCE, which I co-authored with Ms. Deborah P. Kolodji.

For background music, Mr. Rick Wilson played an old Native American vertical flute in addition to my percussion.

From Tan-Ku Collection, " DISTANCE"

In the Wind

wild dogs
can smell
our wildness
the traces of us
in ruined cities

a mockingbird
learns a new song
refugees

it might
be raining ashes
across the sea
across the border
settled in time

wings of planes
wings of birds
no doves

waiting
for a twig of
olive
shining green
forgogtten ark

new skies
condors return
from near-extinction
Wednesday, July 12, 2023

On July 6, 2023, I participated as a featured poet in "Poetry in Nature," a reading event organized by Ms. Teresa Mei Chuc of Shabda Press and Ms. Deborah P. Kolodji.

Two of our good friends, and excellent poets, Ms. Lois P. Jones and Ms. Mary Torregrossa, were delighted to participate in this event, which also served as a celebration of the publication of the book "DISTANCE," which I co-authored with Ms. Deborah P. Kolodji, published by Shabda Press.


I am deeply grateful to them for their inspiring and healing performances.

Thank you to all those who participated in the open mic and to the audience who enjoyed it. Thank you very much.
Friday, July 7, 2023
| | |
| --- | --- |
| | On July 2nd, Ms. Deborah P Kolodji and I performed Tan-Ku reading at Haiku Northern America Tanka Monday Eve in Cincinati. |
| | HNA Tanka Monday 2023 schedule. |
Monday, July 3, 2023
On July 6th, I will perform reading at POETRY IN NATURE in WHITTIER NARROWS NATURE CENTER.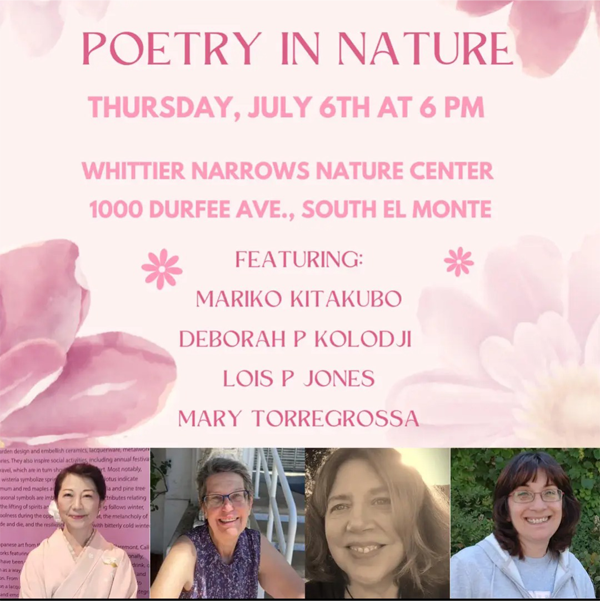 Saturday, July 1, 2023

On June 30th, Ms. Deborah P Kolodji and I presented reading some pieces from our Tan-Ku Collection, "DISTANCE," at the HNA Haiku Northern America Conference in Cincinnati before our reading performance on July 2nd, 2023.

I am delighted to announce that this location marked the 55th city of my reading performance activity across the world.

We extend our sincere gratitude to the event organizer and all the participants who listened to our Tan-Ku reading.
Saturday, July 1, 2023

On April 16, I presented a reading performance for the commemoration of "DISTANCE" publication at the Japanese Friendship Garden in Balboa Park, San Diego.

So many audiences gathered for this, including the San Diego poetry group, and I was so honored. Thank you very much.

This is a view of the Japanese garden arranged on the expansive grounds.
Monday, April 17, 2023

April 14, I presented reading sessions twice at Descanso Gardens in California, the U.S., in its event "Shiki, The Four Seasons in Japanese Art."
Each session was about half an hour long.

I was very grateful for the fine weather and the number of the audience at the event.

After the Descanso Garden event, I received awards from California State Legislature. It was a total surprise for me, and I could not find words to express how much honor I felt.

My sincere gratitude for the recognition. Thank you very much.

A part of the on-going event "Shiki, The Four Seasons in Japanese Art" at Descanso Gardens.
Saturday, April 15, 2023

On April 13th evening, Ms. Kathabela Wilson invited Ms. Deborah P Kolodji and me to her residence and we performed the first Tan-Ku reading.

It was very important and meaningful for me as the preparation for Descanso Gardens Shiki Museum event on the following day, and the Japanese Friendship Garden in Balboa Park, San Diego on April 16th.
Friday, April 14, 2023



On October 26, from 4:00 p.m. PST (October 27, from 8:00 a.m. JST), I participated in the Wednesday Poetry Meeting hosted by Kathabela Wilson and read three pieces of new tanka and haiku sequences that I composed with Ms. Deborah P. Kolodji.

Many comments and opinions were raised by the participants, and I think it was a meaningful opportunity for me because I was able to realize once again poetry is a way to inspire each other through our creativity regardless of the language in which the poems are written. Thank you very much.

I would like to devote myself even more to creating poems keeping in mind my pride, responsibility, and confidence as a Tanka poet.
After the meeting, Ms. Kathabela Wilson posted a wonderful message:

Amazing Wednesday meeting Poets on site zoom welcoming, grateful listening to three beautiful sequences "Tan-Ku" (tanka/ Haiku sequences) by Mariko Kitakubo in Tokyo, Japan, and Deborah P Kolodji, Temple City, California, with discussion and questions, heart to heart with Kris Kondo Maxianne Berger, Sigrid Saradunn , Richard Matta, Rita Melisiano. Beautiful performance including Mariko percussion, and inspirations from Rick Wilson on jade Chinese dizi , hummingbirds and squirrels and your Kathabela! We started with a short collaborative session of cherita and gembun collaboratively writing little 4 and 6 line stories in real time on a shared screen by Mariko, Kris, Maxianne, Debbie, Rita, and Kathabela. This meeting began inside our living room gallery, with the last half hour out on our balcony! That's when the hummingbirds and squirrels joined in!
Thursday, October 27, 2022