Contemprary Tanka Poet Mariko Kitakubo. Article details.
May 24, KPFK Poets Cafe broadcasted our interview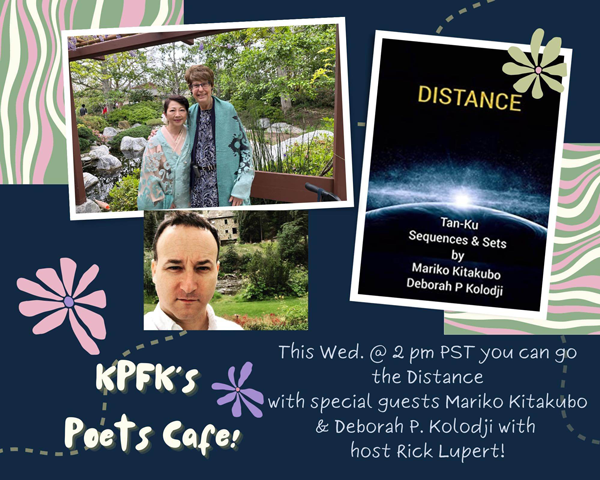 In April 2023, while I was in the US, Ms. Deborah P. Kolodji and I received a valuable offer from Ms. Marlena Bond and Ms. Lois P. Jones of KPFK FM to interview for their program "Poets Cafe."
It was about our first Tan-Ku book, "DISTANCE," released by Shabda Press in the same month. The program was designed in such a way so that those who are not familiar with English Haiku, Tanka, and Tan-Ku get an opportunity to understand these short poems.
Mr. Rick Lupert, a well-known organizer of Zoom Reading, "Cobalt Poets," was the host. We would like to express our sincere gratitude for the opportunity to introduce Tan-Ku to the public airwaves. Thank you very much.
The program was on air on May 24, from 2:00 p.m. PST (6:00 a.m. JST on May 25).
If you are interested, please visit SOUNDCLOUD.com Poets Cafe on KPFK.
Please note that our interview lasts about 28 minutes, and the next program starts immediately after.
(Note) In the question-and-answer session, I mistakenly referred to the origin of tanka as 14,000 years ago, but 1,400 years ago is correct.