Contemprary Tanka Poet Mariko Kitakubo. Article details.
Feb. 15th, Monthly magazine WENDY posted my interview article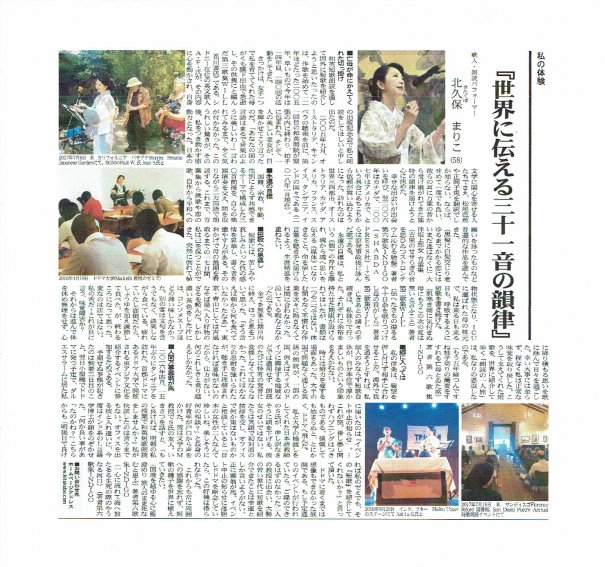 Click the url below to move to the latest edition of Monthly Magazine "WENDY".
https://www.wendy-net.com/wendy/original/index.html
Below is the translation of the article.
DETERMINATION TO INTRODUCE 31 SYLLABLES TO THE WORLD
Mariko Kitakubo
Tanka Poet & Reading Performer
MY DECEASED MOTHER GAVE ME A CHANCE TO START
It was in 2005, almost 12 years have passed since I started composing TANKA, I decided to introduce TANKA overseas by my reading performance. This year is the 13th year of my bilingual TANKA reading performance activity overseas, and I did 134 sessions so far.
It was my anthology, "WILL", that brought me an opportunity. It is my third anthology which I compliled to memorialize my deceased mother, who raised me as a single parent and passed away suddenly due to subarachnoid hemorrhage. Ms. A. F., an English poet in Sydney, was deeply impressed with it, and asked me to perform tanka reading at her publication party.
September 2005, my first TANKA reading performance finished with a very big applause of audience in Canberra, Australia. One beautiful elderly lady come to me and told me, "the language of your country sounds so beautiful as a piece of music!" I have never had such an idea until she told me so. Her comment gave me a delightful suprise, and have been motivating me to continue my bilingual reading performance activity. Even those who have interest in the Japanese literature are able to touch upon MATSUO BASHO or MASAOKA SHIKI only through translated versions. Why don't I deliver the Japanese unique sound and meter which has been succeeded over thousands of years! I made up my mind at that time.
One wonderful encounter brought me another. In 2006, I received an offer from Canada, and in 2007 from America. So far, I presented my bilingual TANKA reading in 34 cities in 7 countries - Australia, Canada, America France, Swizzerland, Tanzania and India. (As of October, 2017)
ETERNAL AIM
My bilingual TANKA reading is composed with about 30 pieces of Japanese poems, all which have universal themes that anyone can empathize regardless nationality, religion, age or gender. I read them in Japanese and in English, taking the appropriate time while playing sound instruments by myself. Usually I select poems of elegy and love from MANYO-SHU, as well as my own piece which pray for the world's peace.
never until now
in this old life,
when white hair twine
among the black,
have I fallen into longing like this
(Ootomono Sakanoueno Iratsume, MANYO-SHU)
sounds
of the stream
in my homeland---
Strontium is soaking
into the placenta
(M. Kitakubo, INDIGO, the sixth anthology)
*the piece written after the nuclear power plant accident)
My eternal goal is to depart from "individual" of being myself and to become a "medium" to convey ideas from soul to soul. I would like to make continuous efforts to deliver the words breathed life to the audience.
RETURNING FAVOR TO TANKA
I believe that TANKA has a power to sublime negative emotions such as pain and sorrow, and to heal the person who writes it. Beause of this power, I was able to hold myself together for the last 17 days until my mother passed away. She fell down suddenly and turned into vegetative state. I sat down at my mother's bedside, and kept writing TANKA day in and day out as if breathing.
on a chilling morning
I realise that
for my mother
there will be
no next summer
(M. Kitakubo, WILL, the third anthology)
are they overflowing
with things she wishes
she could tell me ---
my mother's tearfull eyes
after more than ten days asleep
(M. Kitakubo, WILL, the third anthology)
I did all the procedures needs to be done after my mother is gone by myself. Of course, all of them had certain leeway until the due date, however, there were many documentations I had to process. I had no time to rest and struggled with papers. Literally, there was no time for cring.
After a while, I finished all the procedure. I took a breath, and remembered I had not been eating anything from the morning. I dropped by at an archaic Japanese noodle shop and ordered ZARU-SOBA. Although the sauce for soba noodle was dark enough, it tasted as light as consomme soup. The other customers looked satisfied with the food. They enjoy their meals while happily talking with accopanying persons. I was tired, and I did not want to bother with complaining about the taste to the shop-person, therefore, I added extra soy sause to adjust the flavor. When I almost finished my meal, I realized that it is not the shop, but me, that had trouble. I was suffering from taste disorder.
Since then, I have been trying to take rest consciously, and spending time by creating poems with the emotions piling up in my mind. Fortunately, my taste disorder did not last long. It was TANKA which supported me all the time. It can be said that I am returning a favor to TANKA by travelling alone and introducing TANKA overseas.
five years now
since I sat there
with late mother
supping on noodles
flavored with citron
(M. Kitakubo, INDIGO, the sixth anthology)
WHEN IN ROME...
Not to insist on my own ideas, but try to adapt myself to others. It is my belief. If I become too self-assertive overseas, people may feel not only myself but also TANKA is something self-centered and pushy.
Sometimes I encountere with the situation which require extra efforts. In many countries, my reading performance in English is understood as is. However, in the area in Switzerland bordering to Germany, I had to change the pronunciation particular to the area. Much patience was required, to be honest, but there was no other choice. There is no meaning to perform TANKA in English unless they understand.
INSCRUTABLE ARE THE WAYS OF HEAVEN
In April two years ago, I visited Tanzania after 15 years. I was invited to the event to introduce Eastern Asian Culture held in Dodoma University in the capital.
I fell into the unforeseen situation two days after I arrived in Tanzania. I received a cancellation notice of the event when I was in Dar es Salaam waiting for a flight to Dodoma on the following day. Well, that' life. Unexpected things may happen during travelling, regardless good or bad. It's no use resenting. I departed to Dodoma, anyway.
Ms. S, a Japanese teacher at the university, who bridged between the university and me, apologetically made a bow to me. It was not her fault. We exchanged the greetings of our first meeting with smile, and discussed what we could do. "It's kind of rare to see two Japanese ladies here. Are you planning something fun?" A tall, agreeable young gentleman talked to us at the door. He is Mr. M, the professor of literature of the university, and a friend to Ms. S. When we explained about the circumstances, he said to me, "If it is okay with you, could you perform bilingual TANKA reading in my class tomorrow morning?" Of course, I agreed to his offer right away. Right after Prof. M. left us, Prof. L of linguistics dropped by. "Did something good happen?", he said and gave me an offer. "Could you introduce 'TANKA' in my workshop the day after tomorrow?"
What an unexpected development! If the event had taken place as scheduled, I hadn't been able to meet these two Professors. It was literally a good fortune for me to have had opportunities to introduce TANKA to many young generation in Dodoma. Inscrutable are the ways of Heaven. If I did not go to Dodoma after receiving the cancellation notice of the event, I would not have had this good fortune.
I would like to keep gratitude to others always in my mind, and continue to seed TANKA all over the world.
pure indigo
settles down in my heart,
when I cross the border...
I would like to die
as a wanderer
(M. Kitakubo, the sixth anthology, INDIGO)
intently flowing
the river empties
into the sea,
its mouth like a border
between life and death
(M. Kitakubo, the sixth anthology, INDIGO)