Contemprary Tanka Poet Mariko Kitakubo. Article details.
Received Certificates of Recognition from California State Legislature
I am honored to receive Certificates of Recognition from the California State Senate and Assembly.
It is a great honor for me to be recognized for my small international activities and to have our co-authored book, DISTANCE, read by them. I humbly receive these recognitions and would like to keep moving forward in my activities.
Thank you very much from the bottom of my heart.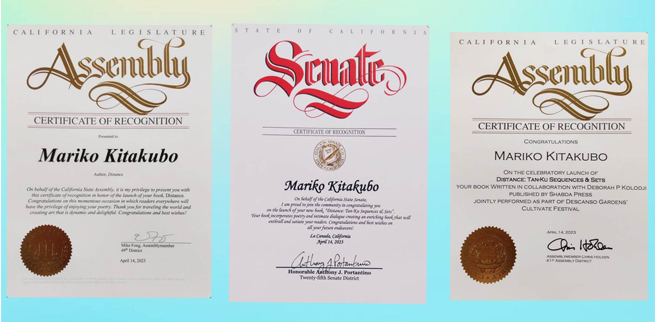 (Left)
CALIFORNIA LEGISLATURE Assenbly
CERTIFICATE OF RECOGNITION

Presented to: Mariko Kitakubo Author, Distance

On behalf of the California State Assembly, it is my privilege to present you with this cenificate of recognition in honor of the launch of your book, Distance. Congratulations on this momentous occasion in which readers everywhere will hm·e the privilege of enjoying your poetry. Thank you for traveling the world and creating art that is dynamic and delightful. Congratulations and best wishes!
Mike Fong, Assemblymember 49th District April 14, 2023
(Middle)
STATE OF CALIFORNIA Senate
CERTIFICATE OF RECOGNITION

Mariko Kitakubo

On behalf of the California State Senate, I am proud to join the community in congratulating you on the laundh of your new book "DISTANCE: Tan-Ku Sequences & Sets."
Your book incorporates poetry and intimate dialogue creating an enriching book that will enthrall and satiate your readers.
Congratulations and best wishes on all your future endeavors!
La Canada, California April 14, 2023
Honorable Anthony J. Portantino Twenty-fifth Senate District
(Right)
CALIFORNIA LEGISLATURE Assenbly
CERTIFICATE OF RECOGNITION

CONGRATULATIONS MARIKO KITAKUBO

ON THE CELEBRATORY LAUNCH OF DISTANCE: TAN-KU SEQUENCES & SETS YOUR BOOK WRITTEN IN COLLABORATION WITH DEBORAH P KOLODJI PUBLISHED BY SHABDA PRESS JOINTLY PERFORMED AS PART OF DESCANSO GARDENS' CULTIVATE FESTIVAL
APRIL 14, 2023 ASSENBLY MEMBER CHRIS HOLDEN 41ST ASSENBLY DISTRICT