Contemprary Tanka Poet Mariko Kitakubo. Article details.
Ms. Deborah P Kolodji introduced our sequence in Rattlecast111 interview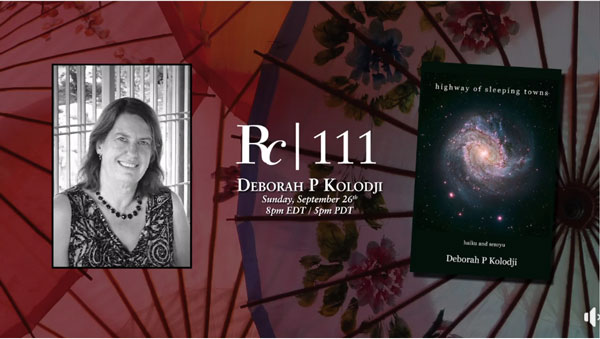 Rattlecast111 has just live-streamed an interview program featuring my best friend, Ms. Deborah P Kolodji.
I would like to express my sincere gratitude toward Ms. Deborah for performing "Both Sides of The Ocean", which Ms. Deborah and I composed together, and published in a New Zealand poetry journal "KOKAKO" in 2020.
Her interview was streamed via Facebook and Youtube. I am very honored about this.
> click here to view Ms. Deborah P Kolodji's interview on Rattlecast111.
Both Sides of the Ocean
by Deborah P Kolodji & Mariko Kitakubo
tea for both
sides of the ocean
smiling moon (D)
sharing
time under
the big dipper ---
gente roundness
of our horizon (M)
was it only yesterday?
cherry blossoms lined
a graveyard (D)
chatting
on the terrace ...
our roses
under my sun
under your moon (M)
I look up
through bougainvillea
skies we once travelled (D)
clouds come
into my tea cup
and go out ...
do they drift
from mine to yours? (M)