Contemprary Tanka Poet Mariko Kitakubo. Article details.
Apr. 6th, Cobalt Poets Reading Zoom Event

April 6, 7:30 p.m. PDT (April 7, 11:30 a.m. JST), I participated in Cobalt Poets Poetry Reading event presided at by Mr. Rick Lupert, and performed English-Japanese bilingual Tanka reading.

It is a great honor to be invited to the event as a featured reader.

Mr. Rick Lupert, thank you so much for the great opportunity.




Click below to watch the event video.
My reading performance, including Mr. Lupert's introduction about me, starts at about 33:20 and runs through to 55 minutes.
Cobalt Poets presents Mariko Kitakubo + Open reading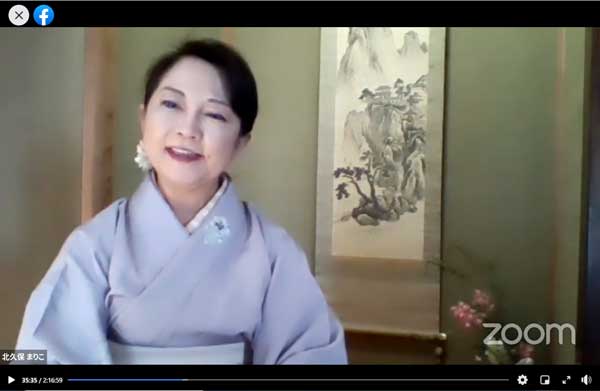 Cobalt Poets Website posted a beautiful broadside for my performance.
(Click the image below to view in large size and/or download it.)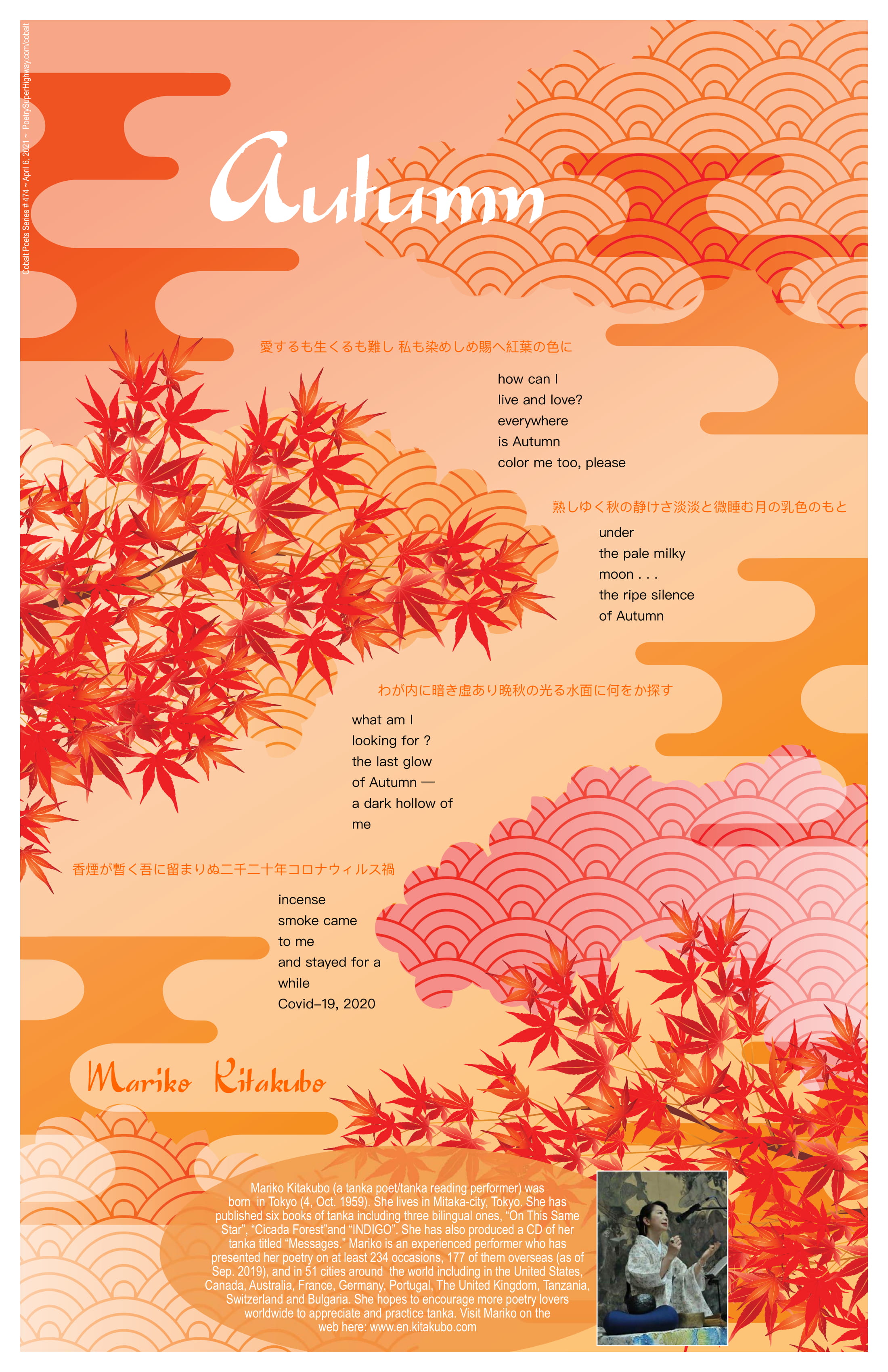 Let me introduce some of the comments made while my reading performance.
20:10:20
Lisbeth Coiman
I am tripping over this.
20:11:45
Nathaniel Horowitz
nice
20:12:13
Nathaniel Horowitz
riverside strong wind that night I escaped from suicide
20:21:29
Seretta Martin
everywhere is autumn color me too please
20:23:14
Cynthia Anderson
"by the misty pond a glimmer of hope"
20:25:01
Nathaniel Horowitz
density of sunlight
20:27:36
Cynthia Anderson
"snowflakes have their own endings"
20:28:46
Tara A. Elliott
Wonderful!
20:29:06
Tara A. Elliott
Stunning.
20:29:09
Deborah P Kolodji
Beautiful, rich, wonderful reading!
20:29:15
Sigrid Saradunn
WoW !
20:29:23
Sigrid Saradunn
Thank you so very much
20:29:32
Lob
wow.. so wonderful! thank you so much
20:30:20
KenScott
The entire work resonated with me. The mood was sublime. Thank you for this wonderful performance!
20:30:23
Rick Lupert
Download the broadside for Mariko's poem here
http://www.poetrysuperhighway.com/cobalt/broadsides.html

Check out Mariko's most recent book "Indigo" on Amazon here:
https://amzn.to/3rVIuy3

Visit Mariko on the web here:
https://www.en.kitakubo.com
20:30:48
Lisbeth Coiman
That was so beautiful. The imagery of nature, the ritualistic aspect of the reading. I am so happy I came to see you, Mariko. Delightful
20:31:06
Dig Wayne
"…a dark hollow of me…"
20:31:26
Seretta Martin
Another stellar broadside. So perfect for her!
20:31:28
Lisbeth Coiman
Ahh. I receive your gift
20:31:33
Salvatore Roseo
stunning work
20:31:42
KenScott
Thank you, Mariko, for blessing us with your presence and spirit!
20:32:44
Karen Scott
Thank you, Mariko, for that lovely presentation!
20:33:04
Crystophver R
Monumental Mariko!