Contemprary Tanka Poet Mariko Kitakubo. Atlas Poetica.
My Tanka published in Atlas Poetica.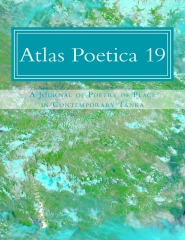 I am very honored that Atlas Poetica Number 19 posted a sequence of my tanka.
Since the given theme was about the subjects related to Asia, I submitted my sequence with the theme of Vietnam where I traveled in the past.
【Contributors: Atlas Poetica Press Number 19】
Contributors: Alex von Vaupel, Ana Prundaru, Anupam Sharma, Aruna Rao, Asni Amin, Autumn Noelle Hall, Barbara A. Taylor, Brian Zimmer, Bruce England, Charles D. Tarlton, Chen-ou Liu, David Rice, Debbie Strange, Ernesto P. Santiago, Genie Nakano, Gerry Jacobson, Grunge, Hannah Paul, Hema Ravi, Jade Pandora, Janet Qually, Joann Grisetti, Joanna Ashwell, John Tehan, Julie B. Cain, Kala Ramesh, Kath Abela Wilson, M. Kei, Mariko Kitakubo, Marilyn Humbert, Michael G. Smith, Natsuko Wilson, Nicholas B. Hamlin, Nilufer Y. Mistry, Patricia Prime, Pavithra Satheeshkumar, Payal A. Agarwal, Peter Fiore, Pravat Kumar Padhy, Radhey Shiam, Ram Krishna Singh, Rebecca Drouilhet, Richard St. Clair, Rodney Williams, Samantha Sirimanne Hyde, Sanford Goldstein, Sonam Chhoki.
The sequence of my tanka posted in the publication is as below.
title; about Vietnam
1
silent
deep black
soil--
dead jungle
were gods here?

(Northern part of Vietnam by cyclo)


2
Milky Way
like a sleeping Buddha
on the Mekong--
history is settling
in the bottom of the river

(by the Mekong of Vietnam)


3
Halong Bay
is the mother of fog
harboring
the old silver scales
of dragons

(during the cruise of Halong Bay in Vietnam)


4
searching for the gods
ousted from deep forests--
karst mountain
suddenly out
of the misty sea

(at the edge of Halong Bay)


5
in the distance
a heap of
jack fruits
look like skulls--
dust on the horizon

(at the twilight, in the rural of the North Vietnam)


Prev
Next