Contemprary Tanka Poet Mariko Kitakubo.
お知らせ
| | |
| --- | --- |
| | I am very honored to be invited as one of the three featured guest for the reading event hosted by Ms. Flavia Garcia, a poet and a translator in Montreal, Canada. |
| | Ms. F. Garcia made an opening remarks. |
| | After the performance, some of the audience expressed their impressions with tears in their eyes. |
| | I would like to continue my activity by keep it in my mind such wonderful comments from everyone. They are great encouragement for me. |
| | |
| | Ms. F. Garcia presented the French vertion. I played percussion while her reading. |
Tuesday, April 23, 2019

Apr. 23rd, I presented Japanese-English bilingual tanka reading performance, with the theme of "Prayer for Peace", to the highest grade student of Ecole Jean Grou primary school. More than 40 students in the class room, all of them are 11 to 12 years old.

French translation was presented by the teachers.

I was very happy to have had an opportunity for the young generation got in touch with tanka beyond the boundery of border.

After my presentation, we enjoyed Origami. I think it turned out to be an enjoyable opportunity to get to know Japanese culture.

Due to the school rules, I cannnot show their lovely faces.
Tuesday, April 23, 2019
| | |
| --- | --- |
| | Apr. 20th, 2019, I performed Japanese-English tanka reading at my best friend's home party. (French translation was presented by Ms. Maria Ferrando.) |
| | In Montreal, I am scheduled to perform 5 Japanese-English reading sessions in total at an elementary school, a junior high school and a literature event to introduce tanka. French translation will be offered in each session. |
| | |
| | |
| | |
| | |
Saturday, April 20, 2019
I will participate in a literature event to be held in Motreal, Canada, on April 23rd.
I am more than happy to have an opportunity to introduce the meter and the depth of tanka as many people as possible through my tanka reading performance.
During my stay in Canada, I am going to visit an elementary school and junior-high shcool to introduce tanka to youngsters.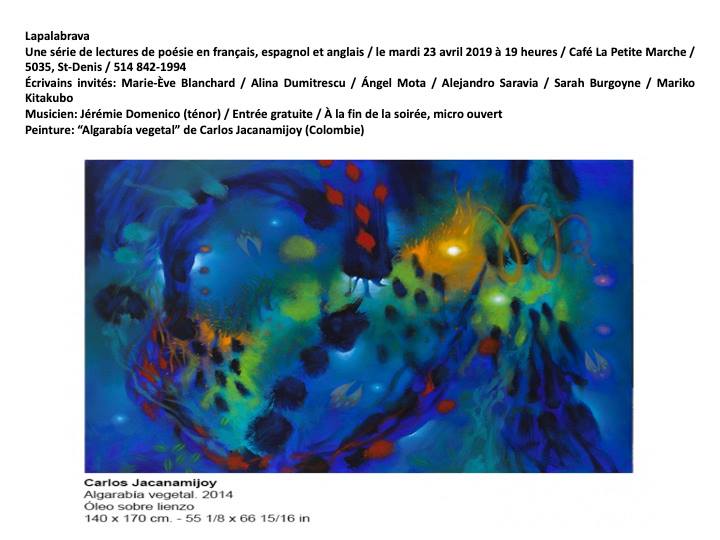 Thursday, April 18, 2019

I had an opportunity to perform bilingual tanka reading at the poetry sharing event held in Tokyo Bunka Kaikan, Ueno, as a part of SAKURA HAIKU FESTIVAL.

I was very honored for this because I was able to present tanka to the Haiku poets.

Although I had only 4 hours from the request to complete all the preparation - actually, it was the shortest preparation time for me! - I was able to satisfy all the attendants.
Friday, April 5, 2019
UTA SHINBUN posted five pieces of new tanka which I wrote in remembrance of Dr. Donald Keene.
Friday, April 5, 2019
In the newsletter volume 15 of "Writers association aiming for abondoning-nuclear-power society" issued in March, 2019, 10 pieces of my tanka and my article about the trip to Fukushima where I visited as a Environment Committee member of the Japan P.E.N.Club are posted.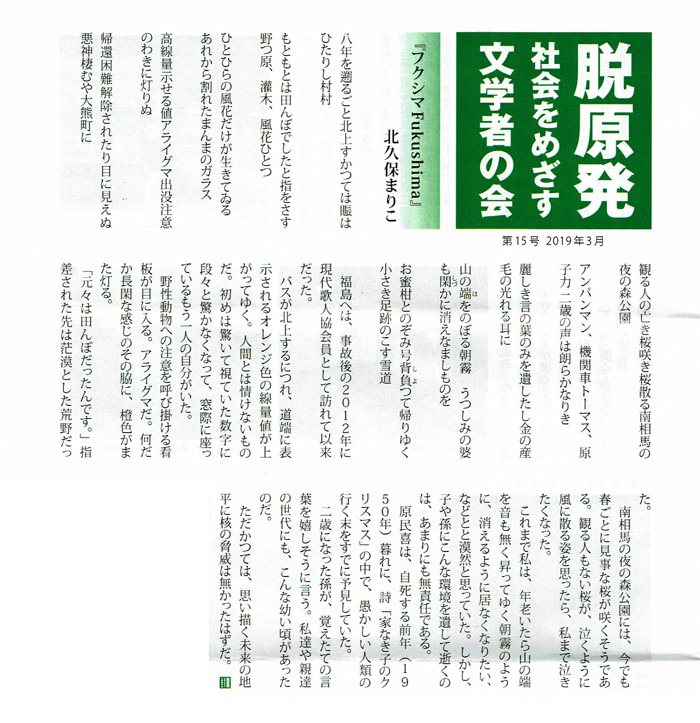 Thursday, April 4, 2019
Wendy-Net, a monthly magazine Wendy's website, posted my article in its "WOMEN" section back number. Please read. (the article is written in Japanese.)
Wendy-Net (https://www.wendy-net.com/)
Back Number "Mariko Kitakubo - Poet & Reading Performer"
≫ Read the article in Wendy-Net swebsite.
Click the image below to view in large-size.
If you wish to read the article posted in Monthly Wendy, Feb. 2018 issue, click here. (English translation is available.)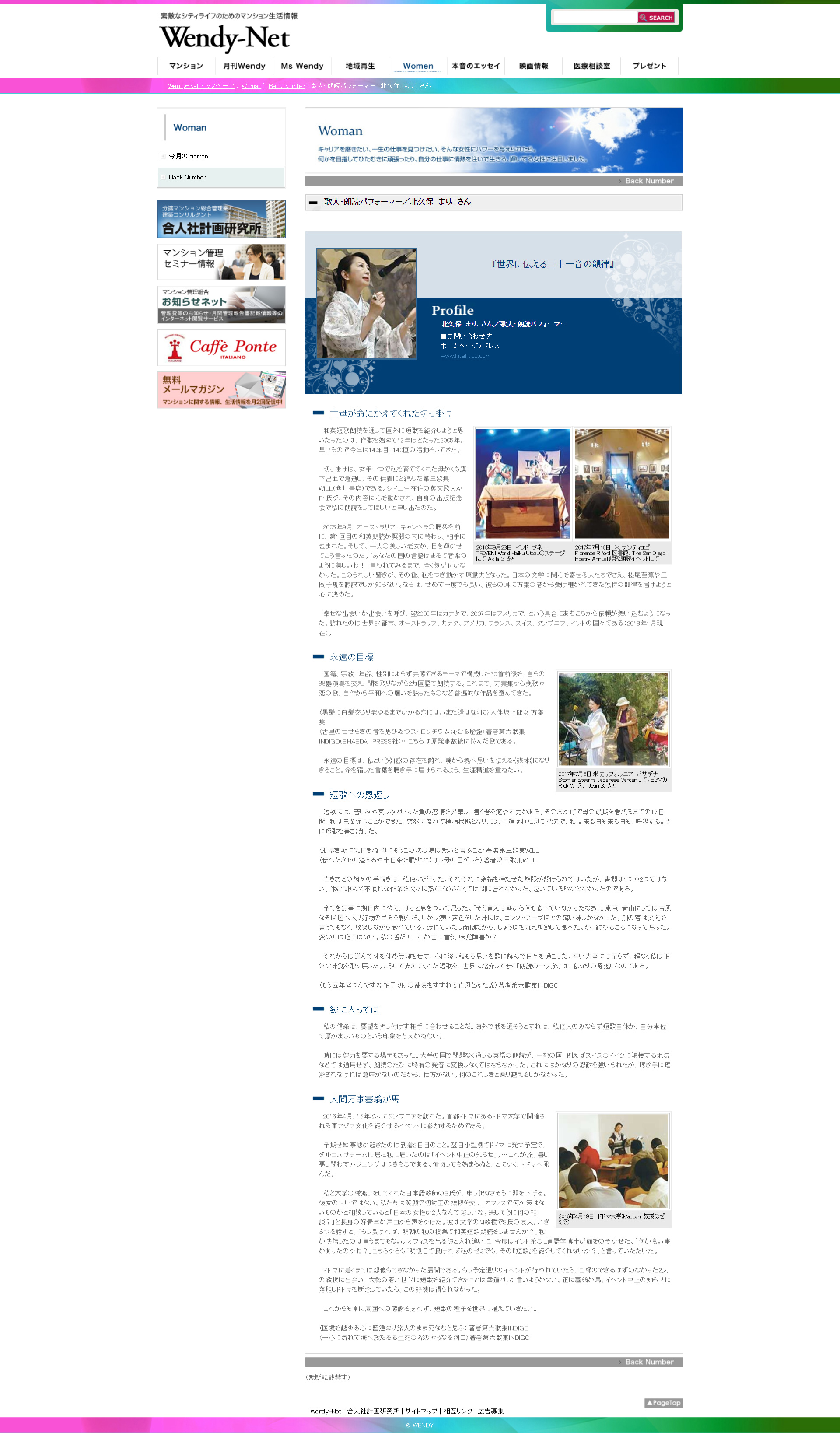 Tuesday, March 26, 2019
It may be a bit early to announce, but on May 18th, I am going to hold a workshop, "Getting Familiar with Tanka" and present English-Japanese tanka reading for the students who study Japanese language at the Graduate School of Humanities of Hosei University.

I am given time for 2 classes. I will perform bilingual tanka reading and compose tanka with students so that the young generation interested in Japanese culture can enjoy in the first half. In the second half, I will have a talk with the professor. I will carefully plan the classes to make it more instructive for the students.

if you would like to join the workshop, please drop me a line to tanka@kitakubo.com.

(Photo: Performing tanka reading at Storrier Stearns Japanese Garden)
Friday, March 1, 2019
"Kokoro no Hana", a tanka journal, posted an article in its February edition about my reading performance in Nagoya in November, 2018.
I would like to express my sincere gratitude toward Mr. Tetsuo Tanaka, a member of "Kokoro no Hana". I am greatly honored by your words. Thank you from the bottom of my heart.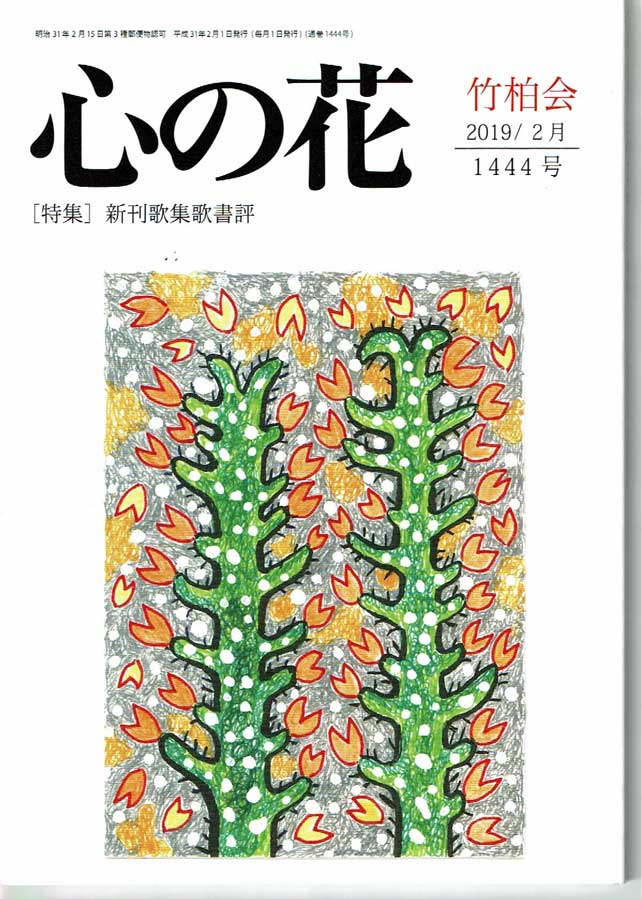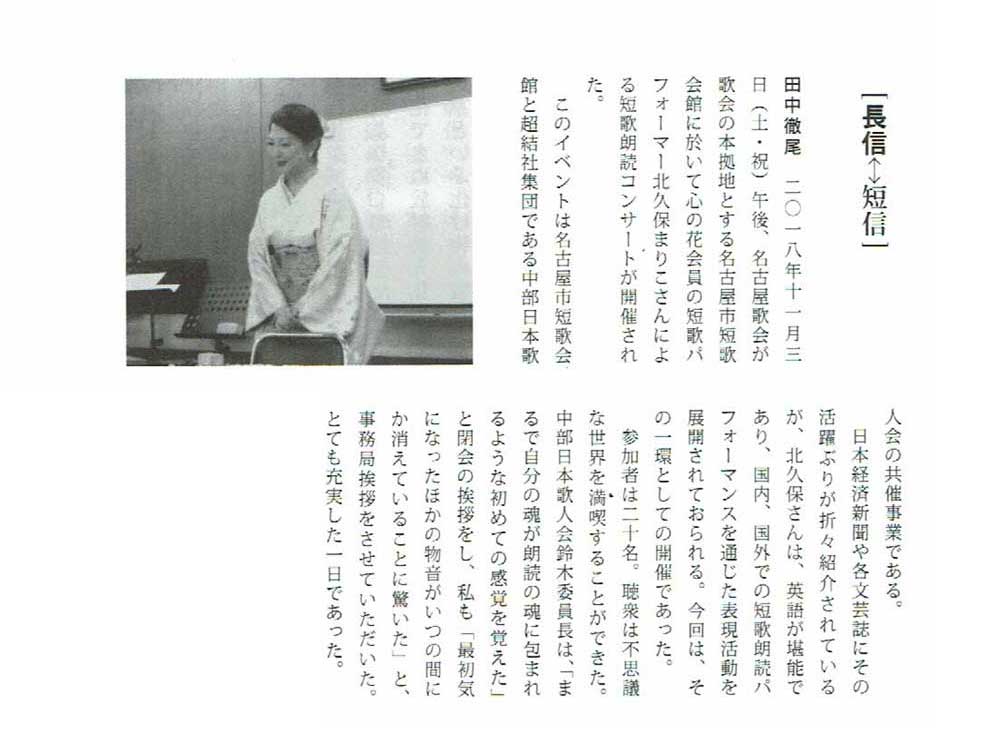 Thursday, February 14, 2019