Contemprary Tanka Poet Mariko Kitakubo.
お知らせ

Wonderful moments before the ribbon cutting ceremony...on April 29th 2018.

Mr. Geroge Vallianos, President of Nick Virgilio Haiku Association.


before the ribbon cutting ceremony.

Ms. Bonnie Squires, President of Aquires Consulting.


before the ribbon cutting ceremony.

before the ribbon cutting ceremony.

Father Michael Doyle of Sacred Heart Charch, Camden.

It was distinct honor to join the Nick Virgilio Writer's house's Opening event as a key speaker on 29th, too.

I did the bilingual tanka reading performance.

Ms. Robin Palley, a member of the board of directors of Nick Virgilio Haiku Association.

The title of the sequence was ''Prayer for the future'' which picked up from the section Betelgeuse of my tanka poetry book INDIGO(Shabda Press.).

Thank you so much for enjoying it every audience.
Sunday, April 29, 2018
| | |
| --- | --- |
| | It was so great experience that I could do the bilingual tanka reading performance for the Opening event of Nick Virgilio Writer's House on April 28th 2018. |
| | I recited the sequence, Nostalgia Vietnam from my tanka poetry book INDIGO published by Shabda Press. |
| | Because Nick Virgilio has the sad memories and experiences of Vietnam. |
| | |
| | |
| | 。 |
| | |
| | |
Saturday, April 28, 2018
I received an invitation to make reading performance at the end of this month in New Jersey, the USA, on the day I returned from Montreal, Canada. I am greatly honored to be introduced as a key speaker. I will keep in shape to persent the best performance on the event.
Date & time: April 29th, at 1 p.m.
Location: the Nick Virgilio Writers House, NJ, USA.
Please the refer to the sites listed below for the details.
Nick Virgilio Haiku Association facebook page
http://goo.gl/UzwPhm
Nick Virgilio Haiku Association web site
https://www.nickvirgiliohaiku.org/
Click the visual below to see the leaflet in larger size!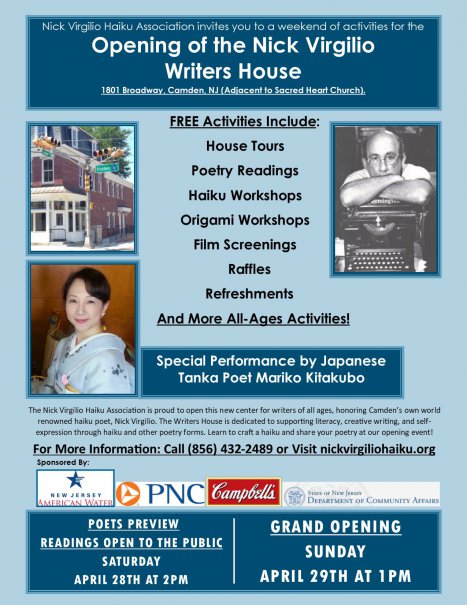 Monday, April 16, 2018

April 6th, 12:45 p.m. I preformed bilingual tanka reading in order to introduce the Japanese oldest literature at the 6th grade class in Jean Grou at Commission Scolaire Marguerite-Bourageoys, Montreal.

I was very much impressed with their sincere attitude to absorb unknown culture. I feel deep gratitude toward them.

In addition to the introduction of the Japanese oldest literature, we had a time to enjoy Origami. We had a friendly mutual communication, and it was a great experience for me.

I was able to recognize again that the cultural exchange is not something stiff and formal. It is an attempt to shorten the distance of our mind and soul.


Wednesday, April 11, 2018

April 6th, 10:00 a.m. I presented bilingual tanka reading at Jean-Grou at Commission Scolaire Marguerite-Bourageoys kindergarten.

The listeners were 5-year-old children - the youngest class.

They gleamed the adorable eyes and interested themselves in the prosody of the Japanese and seemed to feel the contents from the English text.

We had a time to do some Origami, the Japanese art of folding paper into various figures.

I will be more than happy if this opportunity turns out to be a sweet memory for them to get in touch with the Japanese culture.

When we say good-bye, children hugged me one after another.

Their pure and innocent expression became an unforgettable treasure for me.
Wednesday, April 11, 2018
| | |
| --- | --- |
| | April 5th, I performed bilingual tanka reading at JCCCM (Japanese Canadian Cultural Center in Motreal) in Montreal, Canada. |
| | There were some people in the audience who are familiar with tanka, and some others are not. However, everyone enjoyed the nostalgic sound and meter of Japanese. It was a great pleasure for me to share the time with them. |
| | |
| | We spent friendly time. |
| | With Ms. Yukari Hazama. Thank you for your help and cooperation. |
| | With Mr. Osvaldo Rabunal, a guitarist and my best friend Ms. Maria Fernanda Perez Calvo's partner. |
Thursday, April 5, 2018
April 5th, at JCCCM (Japanese Canadian Cultural Center)
I really appreciate Ms. Yukari Hazama and all of the local staff's understanding and cooperation to make it happen.
April 6th, at Jean Grou, a school in Montreal, Canada.
I will make presentation of bilingual tanka reading to the young students.
I would llike to thank Ms. Maria F. P. Calvo for sharing the meaning of my activity with me.
Monday, March 26, 2018
| | |
| --- | --- |
| | Mar. 11, I participated in the spring memorial event of KAGENKI in Hiroshima for the first time in my life. |
| | |
| | |
| | Having touched with the participants' enthusiasm for anti-nuclear, it was a precious experience for me filled with a sincere prayer. |
| | |
| | |
| | Mr. Hiroyasu Amase, a writer, with whom I associate in "Writers association for abandoning-nuclear-power society". He helped me a lot to make my participation to the event come true. |
| | I felt a powerful energy in young people's recitation of Tamiki Hara's poems, and in singing voice of boys & girls in Hiroshima. |
| | |
| | |
| | |
| | At the front of the Atomic-Bomb Memorial Dome, by the monument inscribed with Tamiki's poem. |
| | Mr. Kozaburo Nagatsu, secretary-general of the association of KAGENKI, served as the moderator of the session. Mr. Tokihiko Hara, a nephew of Tamiki, talked about the atomic-bomb willow. |
| | Photo by Hideo Miyamoto |
Sunday, March 11, 2018
On March 11, I will perticipate in KAGENKI (Mr. Tamiki Hara's memorial) in Hiroshima, and perform reading of Tamiki's poems and my tanka.
I will put my heart and sould into my performance to make prayer.
The report will be uploaded afterwards.
Monday, March 5, 2018
Monthly magazine "CHICHI" posted my interview article in its 2018 April issue.
========================================
WISH TO INTORDUCE THE BEAUTY OF TANKA TO ALL OVER THE WORLD
        Mariko Kitakubo
========================================
I started studying Tanka about 25 years ago when I was in the thirties. Now I travel around the world as a poet & tanka-reading performer, I cannot help but feel the wonder of life. Thanks to many people's help and assistance, I have been able to present 145 times of reading performance in 34 cities in the world to date, and I composed about 8,000 pieces of tanka.
The reason that I started composing poems was I wanted to send a message to my father from whom I was parted when I was small. However, I found out he had had passed away when I was a highschool student. I completely lost a way to tell my gratitude or apology directly to him. Tanka was one way to express my emotion which had nowhere to go.
Although tanka cannot deliver a lot of things because it is composed of only 31 syllables, it is easy to write down no matter where I was. Because of this, I was able to compose tanka while doing housework and childcare. Literally, tanka came in to my life.
A MEMORY NOW,
MY SON'S
SOPRANO VOICE,
LIKE THE MYTH
OF THE STARS
I wrote about my son's growth with his changing voice. When I wrote about how I felt while raising my son, toughness and joy, I still remember I was very much relieved.
Being different from sports or study, Tanka does not have a clear-cut method to master the technique. Read as many tanka as possible, and experience the emotion by oneself - this is the only way to improve poet's skill. Luckily enough, I had an opportunity to be under Mr. Yukitsuna Sasaki's tutelage. Mr. Sasaki preside over "Kokoro-no-hana", a tanka organization with more than 110 years of history. His tanka is filled with masculinity and strength. I learned a lot from his works – energy, sensitivity, and so on.
In 2002, one of my fellow tanka poets invited me to a tanka-reading event, "Marathon Reading". After this, I went into tanka - both writing and performing reading - more and more.
I happened suddenly. My mother passes away in the following year. I fell into deep sorrow because I was not able to share my feeling with anyone else - most of my relatives were deceased and I was a only child in the family.
Again, it was tanka which supported me in those days. While I write tanka, I felt being relieved of my worries. It was like passing my sorrow and trouble from deep inside my heart to poem I create. Let me introduce you the pieces I wrote in those days.
I'M WAITING
AT EMERGENCY OUTPATIENTS,
WHERE THE BLUE
OF THE BLUE SKY
SEEMS SO FAR AWA
AH, THERE'S NOTHING
IN PARTICULAR
I WANT TO TALK
WITH MOTHER ABOUT …
AND YET, AND YET
Although I was temporary suffered from taste disorder due to overfatigue and severe stress after my mother's death, I had kept writing tanka as if breathing, and I was able to overcome dysgeusia without any medication and regained mental vitality. I, myself, both physically and mentally, experienced the healing power that tanka has.
I published an anthology, "WILL", which is composed of the pieces with my affection to my mother. In 2005, an Australian writer, who empathized for "WILL", translated my tanka into English. She invited me to her publication party, where I was given an opportunity to perform tanka reading. It was my first reading performance overseas. The emotion we experience at death of the parent is universal. We all share the same feeling no matter where we are born. I received many comments with empathy.
At the same time, I found out that there are many non-Japanese people who learn tanka without experiencing 5-7-5 meter. I wanted to deliver the beauty of tanka as many people as possible. This is the reason why I started bilingual tanka reading performance. In those days, there was no Japanese person doing this kind of activity overseas, therefore, everything was try and error.
I was able to make myself understood in English at that time, however, I faced a lot of difficulties because of the language barrier. American English, British English, and unique pronunciation or phrases in different areas, and so on. The purpose of my activity is to deliver the undulation of emotion in tanka through my reading performance. Therefore, I have always been trying to find the best way to communicate with the people wherever I went.
Language was not the only barrier I faced. Two years ago, I was scheduled to perform tanka reading at an event in an African University. However, I arrived there only to find the cancellation of the event. "Well, having been in Africa anyway, there should be something I can do," I thought. Luckily, I was introduced to two professors there, and had given opportunities to perform bilingual tanka reading in their faculties – two times in total!
If the event have had taken place as scheduled, I would have had perform reading only one time. And, I had no idea how many people would come to the event. My action led me to the better result. When facing a difficulty, even if the situation seems to unfavorable, a step move forward may turn out to be favorable outcome. I believe in it from the bottom of my heart.
Tanka reading performance is fascinating because the emotion seeded in tanka is released to the venue and touches the heartstrings of the people, who all share the same emotion. In order to better express the atmosphere that each piece of tanka has, I use some unique musical instruments such as rain sticks, which makes a rain-like sound, and Hamon - an iron-made percussion instrument – that makes beautiful sound. I am gladly tell you that some of the audience told me, "I do not understand the language, but your performance moved my soul very much."
Being a tanka poet and a performer of tanka reading is a worthwhile job, and I wish I could have the same job if I reborn in the life to come. The lifetime of a human is a lot shorter than that of tanka, therefore, I would like to deliver the beauty of tanka as many people as possible as long as I am able to continue this activity.
Tanka has been helping me to live my life peacefully without suffering from any sever illness. I would like to strive for my activity even more from now on so that I can return favor to tanka for its support to me.
========================================
To move to Monthly "CHICHI" magazine, click the link below.
http://www.chichi.co.jp/
Thursday, March 1, 2018